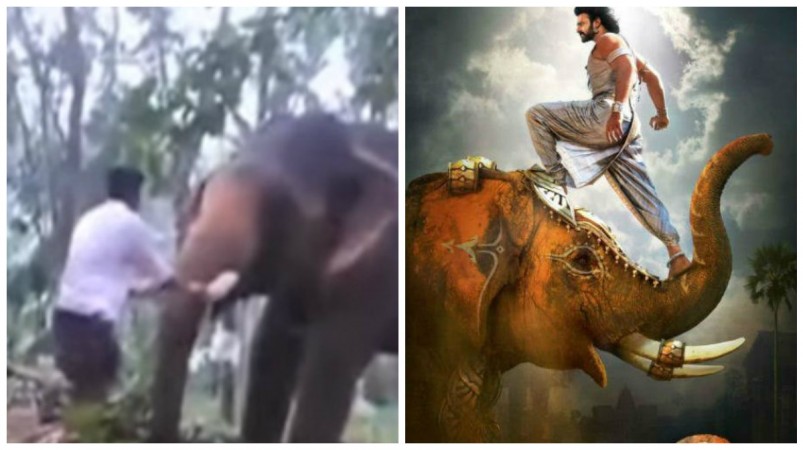 Prabhas did some extra-ordinary stunts in Baahubali 2, but trying the same in real life could be a real hazard. And this youth from Kerala seems to have understood the hard truth. But before that, he had the experience of a lifetime -- a bitter one though -- and almost ended up risking his life.
A video has emerged on social media that shows the young man trying to imitate Prabhas' elephant stunt in Baahubali 2. He is seen trying to kiss an elephant's trunk and then climb upon it, just like Prabhas did in the movie.
However, the animal in real life was not in a mood to entertain the act, and tossed the young man like a toy. He landed on the ground upside down a few yards away. He was in an unconscious state when his friend rushed to his help.
According to Manorama Online, a group of young men were holidaying in Thodupuzha. They spotted the elephant and tried to befriend the beast by feeding it some fruits. Nonetheless, one of them thought that the elephant is good enough to imitate the popular Baahubali 2 stunt.
Initially, the creature looked calm, but just when he kissed on its trunk for the second time, the elephant shoved him so hard that he first got tossed in air, and landed on the ground in an unenviable position.
His friend, who was running the whole episode live on Facebook, rushed to the young man's rescue only to to find him unconscious. Reports said that the man somehow managed to survive, and is in hospital.
This is not the first time that attempts to reenact Baahubali stunts are going wrong. Many incidents had been reported where people tried to copy the waterfall stunt from the movie and ended up seriously injured and even dead.
Earlier this year, a man had lost his life after he tried to do the same by jumping from a height at a waterfall. The victim had tried to imitate the act at a waterfall in Mahuli.
Watch the video of the elephant throwing the man like a toy: