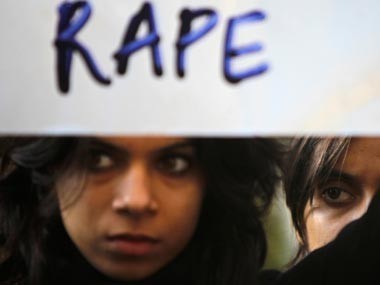 In another shocking incident of crime against women, a 19-year- old girl was hospitalised for grievous injuries after a man forced an iron rod into her mouth for resisting a rape attempt.
The police had arrested the accused on Tuesday on the basis of the victim's statement.
"She sustained severe injuries in her mouth and the attempted strangulation had left bruises all around her neck", Ajay Chaudhry, Additional Commissioner of Police, South East District told PTI.
Police said that the offender, identified as Anil Kumar, an electrician with a local cable operator, arrived at the victim's house in New Delhi's Lajpat Nagar area at around 8.15 p.m on Monday to collect electricity bill dues. The girl who lives with her mother and siblings after her father's demise was alone at home when Kumar arrived.
The 26-year-old accused had forced his way into the house and tried to rape the girl. When she resisted, Kumar began hitting her face. He then took an iron rod and shoved into her mouth to stifle her screams. He immediately fled the spot after she began to bleed profusely.
The victim was rushed to hospital by her neighbours. She was initially taken to Moolchand hospital where the doctors referred her to AIIMS for surgery.
"Her condition is stable. She underwent tracheotomy - a surgical procedure to create an opening through the neck into the windpipe - to provide an airway," as source told Times of India.
The Faridabad police arrested Kumar at around 4 am that day from his relative's house in Ismailpur, Faridabad.
He was booked under charges of attempt to murder (Section 307 IPC) and attempt to rape (sections 376/511).
The brutal attack on the 19-year-old with an iron rod brought to mind the offensive weapon used in the horrific assault and gang-rape of a physiotherapy student on a moving bus last year. The victim's attackers had pierced her internal organs with an iron rod and subsequently pulled her intestines out.
The report of the attack comes at a time when President Pranab Mukherjee gave consent to the anti-rape ordinance which awards capital punishment to offenders in sexual assault cases if the victim dies or turns into a persistent vegetative state. The ordinance was based on the recommendations of JS Verma Committe which was appointed in the aftermath of the Delhi gang-rape.