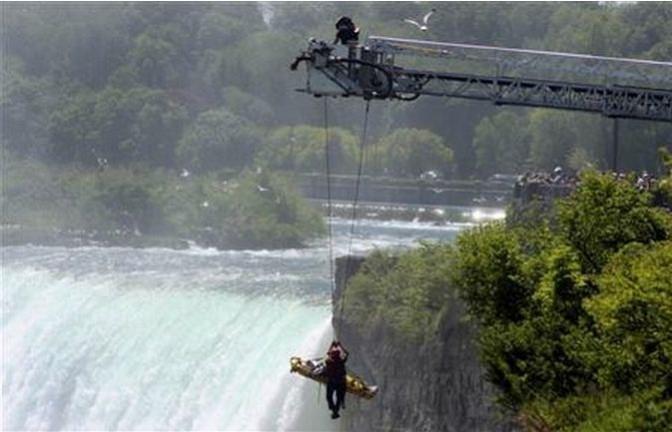 A man, who miraculously survived the plunge of nearly 180-feet over the Niagara Falls without any safety device in an apparent suicide attempt on Monday, is currently in a stable condition and is recovering in the hospital.
Witnesses told Niagara Parks police officials that an unidentified tall, thin man, believed to be in his late 30s or 40s, climbed the tallest 20-30 ft railing over the Horseshoe Falls and intentionally jumped into the Niagara River. Police said the man could not be identified yet.
The entire incident unfolded in front of several day-trippers on Monday morning (Victoria Day) and was also recorded on surveillance camera en suited at the tourist spot.
Nearly two hours later, the man, who has apparently suffered life-threatening injuries, was rescued and airlifted to a hospital from the Niagara gorge by an aerial fire truck, according to the police.
The Telegraph reported that the man was seen surfacing in the lower Niagara River basin and was rescued from the rocky shore. The rescue operation lasted for about 30 minutes.
"He was very lucky. He just happened to come down the river into an eddy [a place devoid of downstream current] and that enabled him to get out," Chief Dan Orescanin of the Niagara Falls Fire Department told the daily.
"If he had been in the main current, he wouldn't have survived. By the time we got to him, he was hypothermic. He was shaking like a leaf," Orescanin said.
The Niagara Parks police officials confirmed the daily that in an unsuccessful suicide attempt, he "deliberately jumped," due to certain "serious issues."
"Based on witness statements and surveillance video, it doesn't appear in any way, shape, or form that this was anything other than a suicide attempt," Niagara Parks Police Sgt. Chris Gallagher told WIVB in Buffalo, USA Today reported.
Presently, the survivor is in stable condition and is seeking treatment in a local hospital; however, he has suffered serious injuries on his chest, including broken ribs and a collapsed lung, the police said.
Till date, only two other people have reportedly survived an unguarded plunge over the falls, one of them being "world's greatest stuntman" Kirk Jones in 2003.