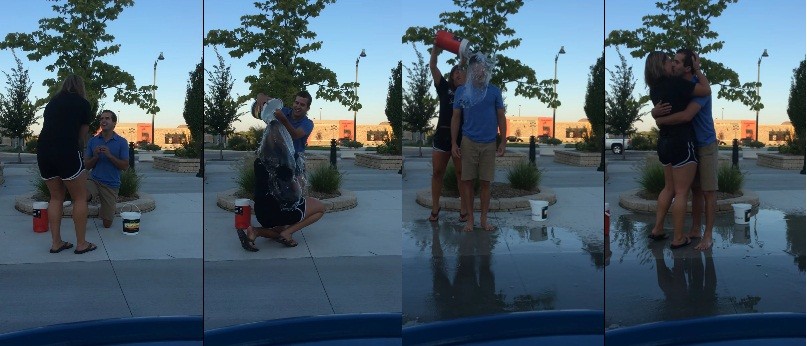 From getting drenched in ice water poured from the balcony (Harry Styles), and sharing the icy challenge with your better half (Channing and Jenna Dewan Tatum), to taking eight buckets worth of ice-cold water back-to-back (Tom Cruise and Mission Impossible director Christopher McQuarrie), and getting drenched in five different outfits on five different occasions (Benedict Cumberbatch), we thought every possible variation and dramatisation of ALS Ice Bucket Challenge has been done.
That is when Justin Davidson of Manhattan, Kansas comes with a marriage proposal that could very well be one of the most heartwarming proposals of all time. Davidson's marriage proposal proved that the ALS Ice Bucket Challenge has succeeded in bringing out the best in almost all of us, especially in terms of inspiring us to donate to a worthy cause. He just took it to the next level.
Ice Bucket Challenge served Davidson the purpose of recording the marriage proposal, without raising any suspicions in his now fiancé and girlfriend of two years, Shelby Muha.
During their Ice Bucket Challenge, Davidson snuck behind Muha and plopped on one knee, as she said the couple were challenged by Katie Kramer and Luke Dempsey and listed off their nominees- Nichole Edney Borth, Scott Harshbarger, and Jeremy Lehning.
When Muha turned around to remind Davidson to douse her, she found him bent on one knee and holding a ring. Shocked Muha screams "what?" and starts giggling while simultaneously exclaiming, "Oh my God!". She too bends down facing him and accidentally drops the ring in all her excitement. While trying to retrieve it, Davidson drenches her.
Davidson, after his heartwarming marriage proposal and the sneak attack on his would-be wife, quickly gets up and names his nominees for the ALS Ice Bucket Challenge: Morgan Smith, Brian Davidson and Nate Craft.
A still delighted and giggling Muha pours the ice water on him, before asking Davidson, "Are you serious?" and giving him a loving kiss. The two hug and share a few romantic moments before Davidson runs to turn off the camera, as Muha keeps laughing excitedly.
Muha told IB Times India edition that although they had been talking about getting engaged, she had no idea that he already had a ring and his proposal therefore took her completely by surprise. He must have had to think it through pretty fast too, considering the couple was nominated for the Ice Bucket Challenge earlier that day. Romantic Davidson sought his mother's blessings before popping the big question.
The video of their Ice Bucket Challenge/Marriage Proposal has gone viral, with over 179,038 views and many congratulatory wishes from most viewers. "The YouTube video has really taken off. It's only been online for about a week and a half, so that's really neat to see other people's positive comments and well wishes!" says Muha.
About the recent celebrity status, Muha says she finds it very surreal. "We keep seeing our proposal story pop up on internet sites and that's exciting to share with our friends and family on Facebook, but it hasn't really changed our daily life. Being engaged is exciting on it's own, so that's been the biggest change. Now we dream and think and plan our wedding and that's really fun."
Muha has posted the video on her YouTube channel with the description: "My boyfriend surprised me during our Ice Bucket Challenge to raise money for ALS! The resulting surprise will warm your hearts! I said yes! And, yes, I DID drop the ring, only to have my breath taken away by a bucket of freezing-cold water! But no, harm done! We're extremely excited to begin our journey together!"
The couple plans to get married in December in Mexico.
To make donations towards ALS Association, click here.