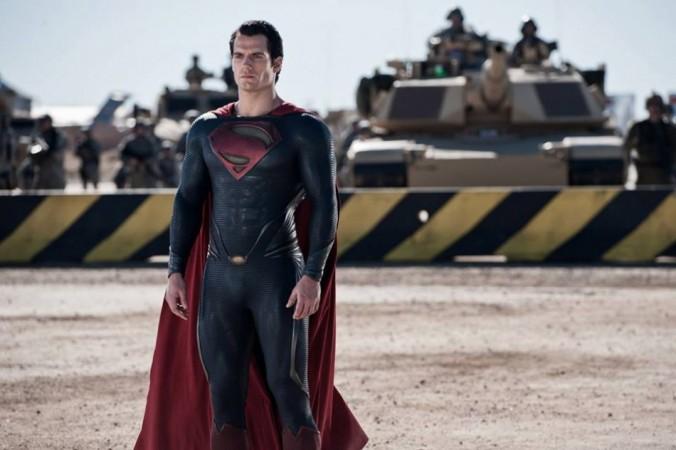 Warner Brothers' latest superhero installment - "Man Of Steel" - has British actor Henry Cavill stepping into the 'Superman' suit sans his trademark curls and the red undergarment. The movie directed by Zack Snyder and produced by Christopher Nolan has had a massive opening and has managed to score mostly average reviews from critics.
The action as expected is marvelous but nonetheless is unending with the emotional quotient brought out in the scenes of Lois Lane's (Amy Adams) character with the protagonist. However, if you go with the expectation of the one-liners and good-old humour as is with the previous franchises, you will be in for a disappointment. With Synder-Nolan at the helm, the film aims hard at reviving the 'Batman'-like feel but falls short as our superhero is more dwindled in his past with a puzzled existence of his alien self on Earth.
The film has an impressive cast with Russel Crowe, Kevin Costner, Amy Adams, Diane Lane and an impressive villain with Michael Shannon.
Here's what critics had to say to the Henry Cavill's suited up avatar in "Man of Steel":
Rajeev Masand of CNNIBN, who gave (3 Stars) writes: "What anchors this noisy, humourless film are some terrific performances by its cast. Russell Crowe plays Jor-El like the ghost of Hamlet's father, showing up every now and then to dispense valuable life lessons to his grown-up son. Kevin Costner and Diane Lane as Clark's Earth parents, Jonathan and Martha Kent, bring warmth and depth to the story. Meanwhile, Amy Adams is a very different Lois Lane to the Margot Kidder version, a Pulitzer Prize-winning investigative journalist who can hardly be fooled by thick-rimmed glasses and a side parting. Her Lois is Superman's emotional equivalent, and Adams brings both heart and smarts to the part."
"Man of Steel leans more towards Nolan's angsty 'Dark Knight' movies than Marvel's playful 'Avengers'. Yet it doesn't have the great ideas of that Batman trilogy. What it does have - despite all its shortcomings - is genuine awe and wonder in the bits where Superman takes flight. For those portions, for the charming new leading man, and some solid special effects, it's worth a watch," he added.
Rashid Irani of Hindustan Times, who gave (2 Stars ), writes: "Thankfully, the crusader in the scarlet cape retains his extraordinary abilities. Faster than a speeding bullet, he can leap over wide expanses in a single bound and even shoot laser beams from his eyes. An exceedingly lengthy prologue set on Krypton depicts the planet as a dystopia seething with danger and decay. Evidently influenced by the Batman trilogy of Christopher Nolan (who serves as producer here), director Snyder (Watchmen) strives in vain to get the viewer to invest emotionally in the human-scale drama."
"The tonally erratic screenplay merely skims the surface of the source comics' mythology. As usual, Superman struggles to keep his identity hidden from the earthlings around him. The dilemma of reconciling his inner turmoil with the responsibilities thrust upon him is resolved in a rather pat manner. The movie springs into belated flight during the ferocious finale...A curiously empty exercise in blockbuster filmmaking, Man Of Steel is full of sound and fury signifying... you know what," he added.
Khalid Mohamed of Deccan Chronicle (3 stars ) writes: "Okay, so no point perhaps in comparisons and contrasts. 'Man of Steel' has been resurrected. And to be absolutely candid, it's an uneven ride, like a long-haul airplane flight. Feeling as pampered as a first-class passenger, at the outset I'm in Krypton, arguably the most intriguing planet ever imagined. After a chunky prologue in the Avatar-style, I felt downgraded to business class, what with director Snyder shifting gears to a quasi-realistic mode...Despite such disappointments for a Supermaniac, the mid-section is still certainly the most engrossing, augmented with a solid story-telling style, where the situations and events evolve without any obfuscation."
"Alas, the film's last portion is like being relegated to cattle class, crowded and chaotic. It's non-stop action and death-defying showdowns (never mind the super-powers). In fact, the protracted finale is quite similar to any of the FX visually startling extravaganzas. With all its pluses and minuses, 'Man of Steel', is a fairly satisfying entertainer, complete with 3-D gimmickry."
Reagan Gavin Rasquinha of Times of India (4 stars ) writes: "Superman has always been the quintessential clean-cut superhero, the sincere saviour of the day. While that essence remains, he now gets a decidedly darker, introspective and brutal edge under the Nolan-Snyder aegis. Many of the usual Superman tropes are deliberately avoided. In fact, he barely even smiles and the quips of past films are studiously avoided. The film is quite simply, a visual smorgasbord. It is grand, sweeping, epic and all the stops have been pulled out. Snyder and Nolan are a blockbuster machine with intensity thrown in too. Being a full-fledged reboot of the Man of Steel's story, it's an immersive film and it's also Superman's most violent outing yet."
"This is a Superman film for today's audience. A hugely impressive and entertaining story of arguably the most powerful character in the superhero pantheon (and also one of the biggest pop culture icons), it's clear that the Man of Steel is here to stay."
While, film critic and trade analyst Sreedhar Pillai tweeted, "#ManOfSteel - 3/5 OK, nothing great but decent. Missing the humor and romance of the original Christopher Reeve 1978 Superman."