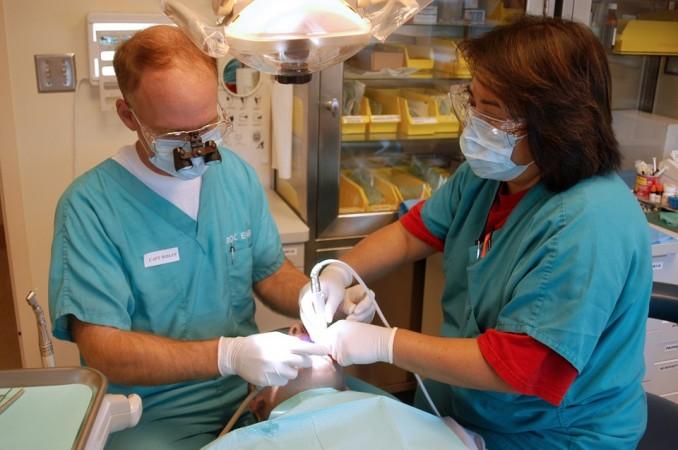 A 39-year-old man in India ate solid food for the first time in his life after a surgery that let him open his mouth.
Rajendra Panchal who hails from Pune in Maharashtra, India, had met with an accident when he was just one year old. The resulting injury restricted his ability to open his mouth.
Panchal's condition made it almost impossible for him to chew solid food, as he couldn't open his mouth more than 1.5 cm. His family couldn't afford the treatment he needed despite visiting several hospitals.
So, he remained on a liquid and semi-solid diet for decades, until last December, when Panchal's severe toothache forced him to see a dentist, Pune Mirror reported.
However, the doctors couldn't even reach to his tooth because over the time his jaw had fused and he was unable to open his mouth.
Doctors at MA Rangoonwala College of Dental Sciences and Research Centre diagnosed him with a condition known as Ankylosis of the Temporomandibular Joint (TMJ).
The TMJ acts as a hinge and connects the jawbone to the skull. Ankylosis of the TMJ can cause pain in the jaw joint and in the muscles that control jaw movement.
"We diagnosed the condition and after realizing his socioeconomic status, we took the matter to the management and were permitted to conduct the surgery free of cost," Dr Aruna Tambuwala told the publication.
"However, the problem was not yet resolved. His CT scans and lab investigations were free of cost, but then we found that he belonged to the O -ve blood group, which is very rare. To make the surgery possible, a postgraduate student from the department funded the blood which we luckily managed to procure within in a short span of time," Tambuwala added. The procedure was performed by Dr JB Garde and Dr Gaurav Khutwad.
After the procedure, Panchal could open his mouth up to 4 cm and could consume solid food. He was discharged from the hospital January 5.
Dr Kiran Gadre, a consultant maxillofacial surgeon at Ruby Hall Clinic, said: "Most cases of ankylosis are reported due to trauma or ear infections. The procedure to release the fused skull bone is a complex one and post-operative physiotherapy sessions play a vital role for such patients. There are also high chances of reankylosis in patients if they skip the physiotherapy sessions."
Panchal told Pune Mirror: "I have slowly started eating food now and will soon be able to eat like regular people. It is heartening to know that there are hospitals that are doing good work and are not merely chasing fees."