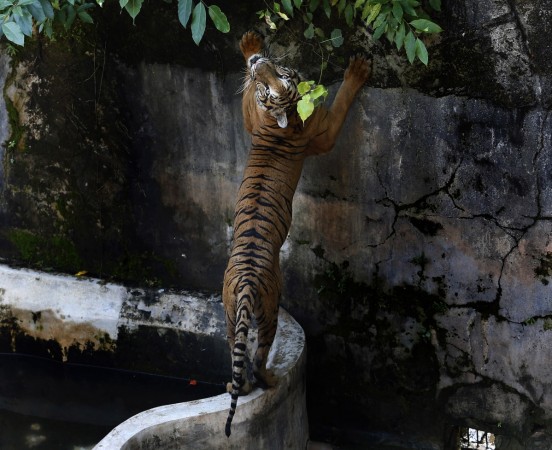 Chief Wildlife Warden G Harikumar has issued a shoot-at-sight order to the 50 officials who are hunting for the killer tiger that has mauled to death two people in Kerala's Wayanad district over the last one week.
"A team consisting of 50 forest officials has been deployed in the area to shoot the tiger," Assistant Wildlife Warden of Kerala Forest Department AM Imthiaz told The Times of India.
The tiger was last seen in an estate in Pattavayal, on the Kerala-Tamil Nadu border, where it killed a female estate worker. The Tamil Nadu Forest Department has been asked to extend their support to the search operation.
Over the last week, the man-eater has attacked three people, of which two have died. The wild animal first killed 63-year-old Bhaskaran on Wednesday in Noolpuzha, five kilometres away from Pattavayal.
On the second occasion, the tiger attacked 30-year-old Mahalakshmi when she was plucking leaves at a tea estate on Saturday afternoon.
The tiger caught her by the neck and dragged her some distance away, but fled to a nearby jungle after other workers raised an alarm. The woman succumbed to the injuries and died on the spot.
The third incident took place when the Tamil Nadu forest officials were looking for the tiger at Cherukunnu on Saturday evening. Rajeesh, 29, was helping the officials tranquilise the tiger when he was attacked. The officials tried to tranquilise the tiger, but they missed the target.
The repeated attacks on humans agitated the locals who ransacked the forest office at Bidirkadu and also damaged a jeep parked nearby. They also attacked two forest officials at Pattavyal. They have been admitted to the hospital.
Police said Mahalakshmi's family and villagers have demanded a compensation of ₹10 lakh to the next of her kin and a government job to one relative.
Related