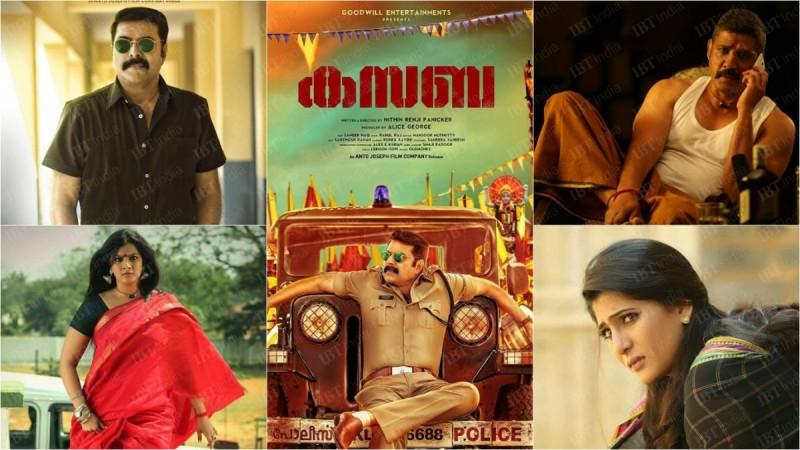 IBTimes India Rating: 1.5
The role of CI Rajan Zacharia aka Kariachan is one that you would least expect from Mammootty, who has always been selective about his characters. He has played a rebel police officer many times before, remember Inspector Balram? Mammootty, who has rarely played negative characters in his career, has essayed the role of a womaniser in "Kasaba." This, obviously, cannot be easily digested by many. However, in the latest movie, Mammootty's style of walking, mannerisms and gestures bring freshness to the character Zacharia.
Coming to the story of "Kasaba," Zacharia is an officer with a not-so clean service record. He is on a mission to find the truth behind the mysterious death of his senior officer's (Siddhique) son (Shaheen) and his fiance. He reaches Kaliapuram, where Parameshwaran Nambiar (Sampath) is trying to become a minister and his girlfriend Kamala (Varalaxmi Sarathkumar) runs a brothel. How Zacharia resolves the mystery on the youngsters' death forms the storyline of "Kasaba." The entire movie revolves around a police station, brothel, politicians and sex workers.
At a time when the issue of gender equality is starting to get the seriousness it deserves, the movie shows male supremacy through the police officer's character, which is a big let down. The scene in which Mammootty grabs a senior female police officer's belt saying he can even break her menstruation cycle is a proof of Zacharia's chauvinistic attitude. The particular scene might have gone well with fans, but showing heroism in this manner would not appeal to most sensible members in the audience.
As the movie develops, so does the super heroism of the hero. "Kasaba" doesn't offer anything new if you have watched the masala entertainers in Bollywood, Kollywood or Tollywood. The treatment of the film is the only difference, as we don't see many flying cars or gangsters in it. There are moments where viewers may draw similarities with Salman Khan's cop movie "Dabaang."
Direction
With his debut directorial venture, Nithin had the courage to talk against the government or the politicians, just like we have seen in his father Renji Panicker's movies. But what makes him different is that there aren't any fiery English dialogues and Mammootty's character is even seen struggling to speak good English in "Kasaba." Pointing out the Delhi bus gangrape incident and criticising the government for not taking care of officers who died while on duty, received applause from the audience.
Performances
Sampath, who portrays the antagonist Nambiar, steals the show as an aspiring politician. Varalaxmi as Kamala, the head of a brothel, is an ideal casting choice of the director. Neha Saxena, another new face for the Kerala audience, has done her part well as Susan, a prostitute with empathy towards girls who are also being trapped in the brothel.
Maqbool Salmaan, who hasn't been able to deliver notable performances till date, despite being in the industry for sometime, has pulled off a decent job this time with the character of Jagan Mohan. As a student leader of the college, he had many scenes in which he appeared with his real-life uncle Mammootty.
Other actors, like Jagadish as sub-inspector Mukundan, Alencier Ley as Thankachan and Abu Salim as Palani, have done justice to their respective roles. The movie has many unfamiliar faces, who have also done their parts in an appreciable way. The story has some avoidable characters and side stories, which take the viewer on a detour from the main storyline.
Technical Aspects
"Kasaba" just has one item song, which is not impressive, except for Neha and her dance performance in it. The background music by Rahul Raj is spot on for the situations in the film, especially the music that introduces Mammootty. The cinematography by Sameer Haq gets a thumbs up, but the editing could have been improved with crisp cuts.
Final thought
"Kasaba" is a cop story with tried-and-tested ingredients that have often been well accepted by the audience. The narrow storyline has been stretched to 2 hours and 17 minutes with a few avoidable scenes. The movie might not go well with the family audience as it has many one-liners with double meaning. But if you are a true Mammootty fan, "Kasaba" will make your day and will not disappoint you. It is the megastar's one man show as a cop. Overall, "Kasaba" is a one-time watchable flick only for Mammootty fans.