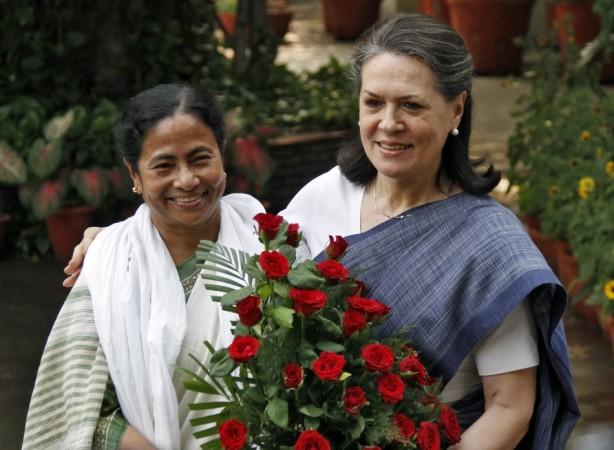 West Bengal Chief Minister and Trinamool Congress Chief Mamata Banerjee will meet Congress chairperson Sonia Gandhi to discuss the prospective UPA candidates for the presidential post.
Earlier on Tuesday evening Mamata arrived in Delhi and met Samajwadi Party leader Mulayam Singh Yadav ahead of her meeting with Sonia Gandhi. Both reportedly had agreed to look at the possible candidates' list and discuss their opinion before promising any support to the UPA nominees. Reports suggested that both have given the green signal to Pranab Mukherjee's candidature.
Mamata has reportledy told the Congress that she will support Mukherjee if he is nominated. It is believed that she would not come in the way of a fellow Bengali becoming the president.
But the UPA seems to be still pondering if Pranab or Vice-President Hamid Hansari would be a better candidate. Apart from them, possible new nominees name have also emerged including Congress senior leader Karan Singh another Congress leader in Uttar Pradesh Mohsina Kidwai, West Bengal governor Gopal Gandhi and former Lok Sabha speaker Somnath Chatterjee, according to IBN Live.
So far, UPA allies Dravida Munnetra Khazhagam (DMK), Nationalist Congress Party (NCP) and Rashtriya Lok Dal (RLD) are backing Pranab's candidature.
Mamata's meeting with Sonia is considered as crucial and is coming at a time when the Election Commission has already announced the presidential poll schedule.
The election notification for the presidential poll will be issued on June 16 and the last date for nomination is June 30. The nomination papers will be scrutinized on July 2 and the last date for the withdrawal of candidatures is July 4. The election results will be declared on July 22, two days before the term of President Pratibha Patil ends.
While the candidate for the president post itself has not been decided, the race for the vice-president post is already building. The main opposition BJP has not decided on its presidential candidate as the party waits for the Congress to decide on their nominee first.
But there were some reports suggesting that a section of the BJP members are lobbying for senior BJP leader Jaswant Singh's candidature for the vice-president post, in return for a consensus on the Congress' presidential candidate.
Adding to the speculation, Jaswant Singh met Samajwadi Party (SP) chief Mulayam Singh Yadav at his residence, which led to rumours about a trade-off as the race for Rashtrapati Bhavan heats up. Yadav hasn't revealed on which party's candidate he would support.