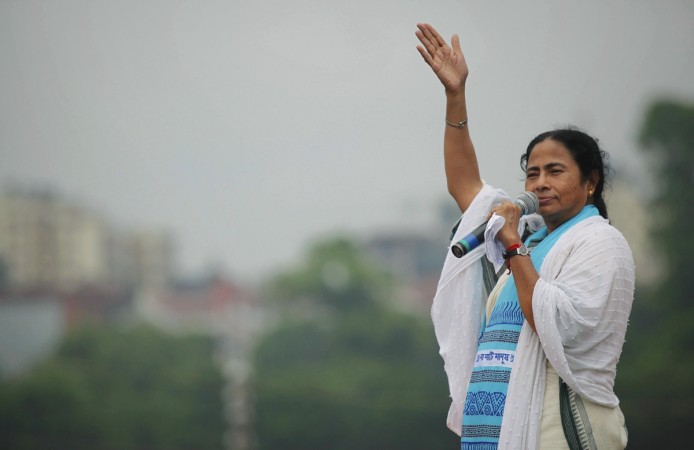 West Bengal Chief Minister Mamata Banerjee on Saturday called BJP leaders "men of riots" and said they are playing communal politics by dividing people based on their religion.
"These people are destroying the communal harmony here. They are arresting people from here and there and then they are labelling them as terrorist [sic]. They are terming all the madrasas as terror centre...They have spent their whole life instigating communal violence and riots. They are made of riots from head to toe and kidney to liver," Indian Express quoted Banerjee as saying.
She further added that the criminals involved in terror activities must be punished but the entire community should not be blamed for the crime committed by one of them.
Banerjee slammed BJP for alleged rioting during a communal harmony rally organised by TMC near the Gandhi statue in Kolkata on the 22nd anniversary of the Babri Masjid demolition. In the rally she said that communal politics must be discouraged.
"We must abhor the politics of division. It is against our culture. There is difference between governance and politics. The two must not be mixed... Do not spare me even if I commit a wrong. But only spreading lies, canards and vilification campaign and attempts to create riots is not religion," PTI quoted Banerjee as saying.
Alleging that CBI is in under political influence of the ruling government, Banerjee said that some day she will be murdered as well and "they" will say she was killed in a blast.
"They now think that they will kill Mamata and then say she was killed in a blast. But I know everything and I too have information. What cadres you have made? I have seen cadres of CPM too and I am not afraid. I am the guard of my people and if you want to touch them, you have to cross me first," Banerjee said.
She even raised the Delhi church fire incident and apparently blamed the BJP for it, apart from blaming the government for the demolition of the Babri Masjid in Ayodhya.
"One thing should be clear - we will not accept politics of division, destroying the temple and setting fire to mosque. What was the need to create trouble in a church in Delhi?," she asked.
However, she made it clear for the opposition (BJP) that she will only co-operate with the Centre if they in return run the government "well and in right way."
"If you can run the government well and in right way, we will cooperate. You will get cooperation in exchange of cooperation and non-cooperation in exchange of non-cooperation. If you want to demean us, we will fight," Banerjee said.