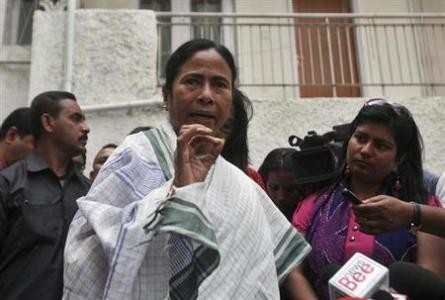 West Bengal Chief Minister Mamata Banerjee and her state finance minister Amit Mitra met top business leaders in Mumbai on Friday. She briefed them about her ambitious plan to build the next World Trade Centre in the Kolkata capital of the state.
Enthusiastic about the draft industrial policy of West Bengal 2013, Mamata assured 40 business leaders, including industry magnate Mukesh Ambani, that her state is going to be 'investment friendly'.
According to the new industry policy, Kolkata will be the biggest financial hub and will house a 'World Trade Centre', Banerjee told PTI.
But the state of West Bengal is marred by regular labour union strikes, especially the controversy at Singur due to which Tata Motors had to relocate their Nano factory to Gujarat. Mamata claimed at the press conference that the hours lost due to regular bandhs had declined since her party Trinamool Congress came to power.
"The work culture is very good nowadays and we don't support any strike or a bandh. We believe that there should be a good relationship between industrialists and workers," she told PTI.
But the TMC high command did not backtrack on her 2008 decision to oppose the Tata Nano project at Singur.
"Whatever I've done for Singur, I'm proud to do. I'm in favour of industry and I am in favour of agriculture too," she added.
Tata Consultancy Services chairman N Chandrasekaran was present at the hour-long meeting along with other leaders. The largest shareholder in Tata Sons, Shapoorji Pallonji, agreed to a project of building 20,000 houses, she told reporters.
Mamata did not specify any financial targets that the state wishes to achieve, rather she just briefed the top brass about the areas in which they can invest. The TMC government claimed in the draft report of 'Industrial and Investment Policy 2013' that the state is under a burden of over ₹ 2,00,000 crores as debt.
The state is likely to unveil a new West Bengal State Support for Industries Scheme 2013, reports TOI.