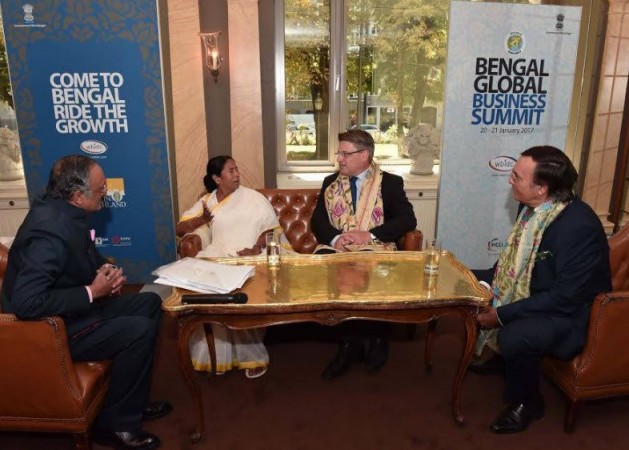 Bengal Chief Minister Mamata Banerjee, who is in Munich, Germany, urged investors on Wednesday to invest in Bengal. The chief minister projected the eastern Indian state as a preferred destination for investment, assuring investors that apart from the state government support, they will have a unique advantage as Bengal offers strategic proximity to Southeast Asian countries.
"We will help. Give us the choice, we will give you all options. If you want to set up industry, the state government will give land from the land bank. Our land bank, land policy is ready. If you come, we will be happy," Banerjee said while addressing a business meeting in Munich, Press Trust of India reported. She added that the state has a large pool of professionals and trained workers.
The Bengal government is trying to explore prospects for furthering business relations and possibilities between the state and Germany.
Talking about economy, Banerjee, who is leading a business delegation to Germany, said that Bengal was growing faster than the national average. It also had sufficient power generation to support new industrial units, the Mint reported.
"If you want to invest, you have to set up one unit. Only ancillaries (industries) will not serve the purpose. Please consider me as your sister. Consider Bengal as your home. Bengal is the destination," the PTI report added.
Urging BMW, Tatas
Last week, the Supreme Court cancelled the Singur land acquisition order and directed Tata Motors to return 997 acres of land to the farmers. Banerjee, who had led the battle for farmers to snatch back land allotted to industrialists by the previous Left government, made fresh appeal to BMW and Tata company to invest in Bengal.
Addressing a delegation of about 160 companies, she said: "Come to Bengal and set up an auto hub. BMW representatives are here. I am requesting you to invest in Bengal. Land won't be a problem. There is a lot of opportunity in the transport sector."
"Bengal with its 90.1 million people offers a market as well. You can set up a plant here along with ancillaries. We will provide you land from the land bank. Tata representatives have come with us. I request the Tatas to invest in Bengal," Times of Indiacited Banerjee's statement as saying.
I am in Germany to explore prospects of furthering business relations and possibilities between Bengal and Germany pic.twitter.com/x3cvEEZtw2

— Mamata Banerjee (@MamataOfficial) September 7, 2016
#Bengal is open to all options to facilitate investments & further business in the state | https://t.co/stJR4pq2AI pic.twitter.com/Cr6Pc7CNK8 — Mamata Banerjee (@MamataOfficial) September 7, 2016