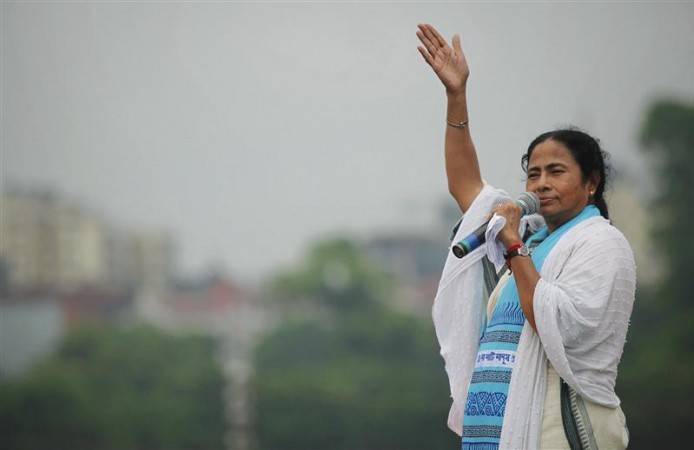 In an open salvo at the ruling BJP-led government at the Centre, West Bengal Chief Minister Mamata Banerjee has called for a 'secular front' to take on 'communal forces' and even said that she is willing to join hands with rivals in the Left if the Congress takes charge for such a coalition.
"For the greater interest of the country, for the peaceful situation of the country, for the stability of the country... I will be with them," Banerjee said at the Congress party's programme on Monday to commemorate the 125th anniversary of Pandit Jawaharlal Nehru.
"I have ideological differences in the state with the Left but that should not come in the way of fighting communal forces because secularism is the bedrock of India...I will go to any extent to protect secularism even with my life if required," she reportedly said.
The West Bengal CM also said that the BJP would lose future elections if regional parties were to join forces.
"The Congress committed mistakes because of which they were voted out of power. The BJP is ruling India with only 29 percent votes. They won because regional parties didn't fight unitedly. If regional forces come together, the BJP will lose," she was quoted as saying by IANS.
Banerjee's Trinamool Congress party is engaged in bitter clashes with the BJP as the latter is making political inroads in her state. In the general elections, the BJP won two parliamentary seats, while they made a historic entry into the state assembly by winning a seat during the assembly elections.
While Banerjee has pitched for a national anti-communal coalition, her statements could also be seen in the context of state politics, as West Bengal is due for polls in 2016 and BJP president Amit Shah is already shifting focus to her state that she has been ruling since she overthrew the Left in 2011.
"I had floated the idea of a federal front before the Lok Sabha elections. That did not work out probably because everybody was too busy then with the elections. Had it happened then BJP would never have come to power. Look at what a small percentage of votes they had got in Lok Sabha and now also in Maharashtra," Banerjee further said.
On Monday, Congress head Sonia Gandhi had herself taken a dig at the ruling party that came to power in the May elections with a majority mandate and has even taken over power in states not part of the saffron stronghold.
"There could be no Indianness, no India, without secularism. Secularism was, and remains, more than an ideal. It is a compelling necessity for a country as diverse as India," Gandhi had said at the Nehru birth anniversary conference on Monday.
On 14 November, she and Rahul Gandhi had lashed out at the BJP for attempting to 'wipe out' Nehru's secular legacy.