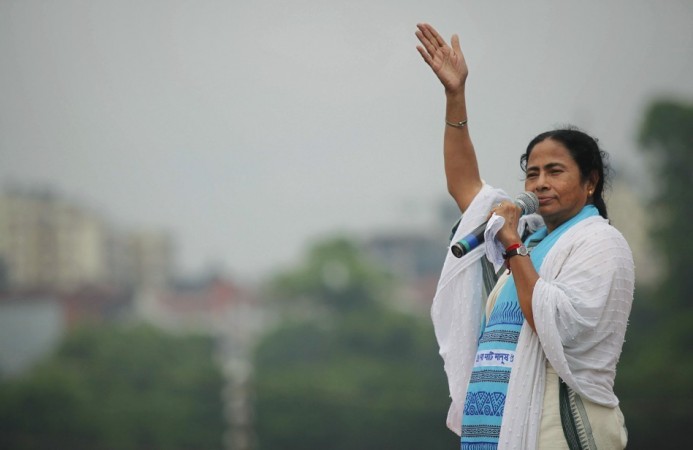 Hot-headed West Bengal Chief Minister Mamata Banerjee labelled university students as Maoists and Left supporters at a television show organised by CNN-IBN in Kolkata, when she got uncomfortable answering a few questions put forward by them.
Mamata is virtually of the opinion that any questions in West Bengal on the government should only be raised by her archrivals CPI(M) and Maoists supporters.
A visibly upset Mamata walked out of a show on Friday refusing to answer questions posed by few students over the government's approach in dealing with rape cases and the arrest of a professor over a cartoon of hers.
An interactive audience show was organised at the Jadavpur University (JU) over the completion of one year in power by the Trinamool Congress in West Bengal that had been a Left stronghold for over three decades.
However, the show ended on a bitter note as Mamata just shrugged in response at some questions asked by a few youngsters, leaving the audience fuming over their Chief Minister's "unacceptable" gesture.
One of the viewers appalled and with a sense of dismay said, "if she thought we were wrong she should have level headedly took the questions and come out of the logics, rather labelling as Maoists, this shows that she lacks the hallmark of a true leader."
Responding to a question about the arrest of the JU Professor, Mamata describing him as a CPM follower said, "It is not a cartoon. We love cartoons. Cartoon is a different thing. He is a CPM man. He misused the e-mail of his society people without their consent. He forwarded it to 60 people."
"The message in the cartoon which contained the word 'vanish' is a murder conspiracy and a plot supported by CPI(M). What he has done is a cyber crime. It is not a cartoon, it is a political conspiracy to murder me," she alleged.
Further, Mamata detected a conspiracy against her and questioned the presence of only Jadavpur University students at the show.
However, it was just a matter of minutes before the audience saw a furious Mamata pulling out her collar-mic saying those were the questions of Maoists and walked out of the hall. She even asked to verify the students' background to find out if they were from Maoist and CPM cadres.
Mamata has been drawing displeasure from various quarters due to her intolerance in dealing with the many disputes, from the arrest of a professor to banning several newspapers from the state library, which allegedly spread negativity about her government, and now its shrugging shoulders at students.
All this leaves everyone wondering: What is Mamata Banerjee up to?