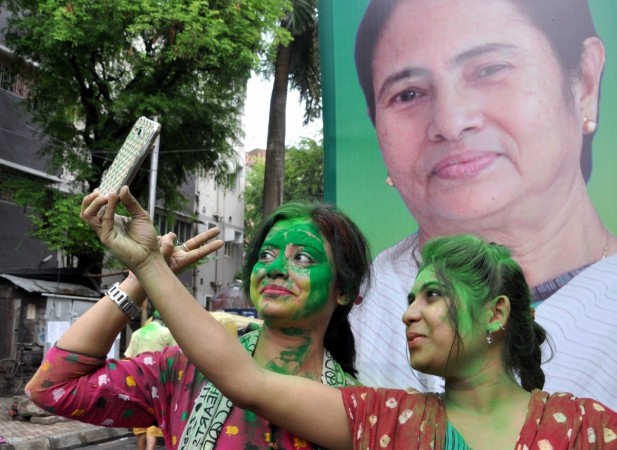 Mamata Banerjee's Trinamool Congress (TMC) apparently swept the state of West Bengal on Thursday, breaking its own record. The TMC was poised to win more than 200 seats, according the Election Commission. Their win has already been confirmed in more than 120 seats.
Banerjee, or "Didi," who looks set to return for a second term, said in a press conference on Thursday: "All smear campaign against the Trinamool was defeated," referring to the Saradha scam and the Narada sting operation. She also appealed for peace in the state, as polling was mired with violence.
Incidentally, Trinamool activists have been accused of vandalising and torching a CPI(M) office in Asansol on Thursday.
"Socio-economic development for the downtrodden will be our priority," Banerjee was quoted as saying by the Hindu. She also thanked "Ma, mati, manush" for her victory.
She said in a tweet: "For the first time in 49 years, All India Trinamool Congress, all by itself, has come to power in Bengal, riding on a single agenda — development. [sic]"
The TMC had won 184 seats last year. The party had fielded many known faces from the fields of cinema and football for the 2016 Assembly elections. While it was projected that the Left and the Congress alliance would make a dent in the TMC vote share, that proved to be incorrect. They have been tipped to win around 70 seats together, according to Election Commission data.
Surya Kanta Mishra, the CPI(M) state secretary and the face of the alliance, faced defeat in the elections.
"Surely in West Bengal we expected to do better. The alliance had a strong showing in Tamil Nadu. We performed well in Puducherry," Congress leader Jairam Ramesh was quoted as saying by ANI.
Criticising the Congress' election plan of tying up with the Left, Banerjee was quoted as saying by ANI: "I believed in Congress ideology as I joined politics with that party, but now the Congress itself has lost its ideology."
The BJP had also attempted to increase their vote share in the state whose assembly has 294 seats.
The TMC had ridden the anti-incumbency wave and come to power in 2011.