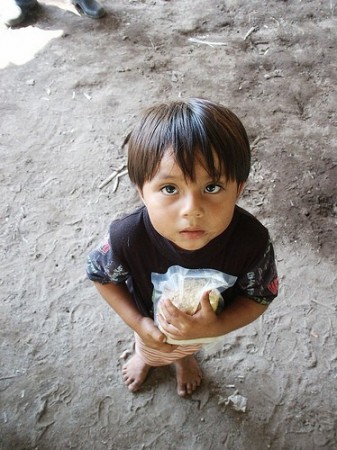 Malnutrition can leave a lasting impact on a child's development, according to a new study.
Researchers - from the Washington University School of Medicine, St Louis in the US and the International Centre for Diarrhoeal Disease Research in Dhaka - looked at 64 malnourished and 50 healthy children in Bangladesh and explored the importance of proper nutrition at the early stages of growth, BBC reported.
The analysis included children aged between six to 20 months. As part of the study, researchers supplied certain food items known to treat malnutrition - like Plumpy'Nut or Khichuri-Halwa - to the participants. They also collected faecal samples from the children, both before and during the treatment.
Results showed that suffering from malnutrition affected bacterial make-ups in the gut, and the effects couldn't be reversed even after undergoing proper treatments. The gut bacteria in malnourished children showed an improvement during treatment, but showed an "immature" state after discontinuing the treatment.
"Although therapeutic food-based interventions have resulted in a significant decline in deaths from malnutrition, many children never fully recover," Dr Sathish Subramanian, of Washington University, told BBC.
"We found that children who were malnourished had gut microbial communities that were not consistent with their chronological ages. Moreover, the severity of a child's malnourishment was tied closely with the degree of immaturity of his or her gut microbial community, and this immaturity could not be durably repaired with standard treatments."
The study has been reported in the journal Nature.
Previous studies have shown similar effects. A study published in the journal JAMA Pediatrics, reported that poverty at childhood affected proper development of the brain. The authors found that poverty in early childhood was associated with smaller brain volumes at school and teenage days.
Chronic malnutrition claims about five young lives every minute, according to a report by Save The Children. Another report showed that about 147 million pre-schoolers were stunted due to malnutrition in developing countries.
In May last year, a team of UK researchers found that malnutrition posed more health problems to children than obesity. The list included bone diseases and cardiovascular risks.
Apart from these, malnutrition can affect the children's ability to learn and perform at school, and increases the risks of many diseases and early death, according to the health experts from UNICEF.