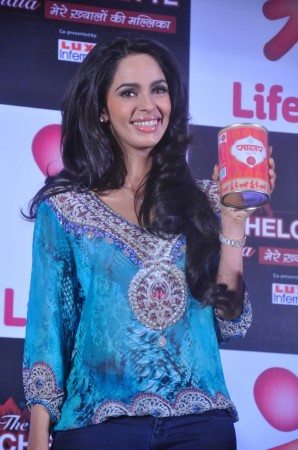 Glamour queen Mallika Sherawat is known for her oomph image but this has proved to be a hindrance in finding varied roles confesses the actress. She also spoke about her male dominated family.
"The glamorous roles have given me name, fame, success and independence but at the same time this image has worked against me as well. I have got stereotyped. I am not getting interesting offers which I can accept," she told Press Trust of India (PTI).
"I don't just want to look pretty in films, do songs, have two-three dialogues... I am looking forward to do interesting and challenging roles," Mallika added, hoping to be offered varied films from upcoming directors.
The 36-year-old actress is now gearing up to find the perfect suitor onscreen in "The Bachelorette India." However, the actress believes that despite the changing face of Indian cinema, women oriented roles are still scanty in Bollywood.
"Very few Bollywood films have meaty roles for actresses. Films like 'The Dirty Picture', 'Kahaani' come once or twice a year. Majority of films are commercial masala where heroines have (to be content with) glamorous roles, singing songs," she explained.
The bold actress also opened up on her conservative roots and estranged relations with her father. She revealed that her father who was supposed to be a protective figure, let her down.
"I was brought up in an extremely patriarchal and male dominated house. Women were just meant to breed and girls from good families were not supposed to work and there was a stigma attached to it...I realised that I had only one life and ran away from home to chase my dreams to become an actress in Mumbai," Mallika said in an interview with The Times of India.
"My father (Mukesh Lamba) absolutely disowned me and disallowed me to even use his last name," and added. "It's difficult to get over my father's betrayal as a protector that you expect as a young girl. I am his blood and who else can you look up to if not your own father?"
The actress also let out that she has been in love only once and was left heartbroken. With the reality show, she seeks to continue her search for the perfect partner.
Mallika's reality show, "The Bachelorette India" will air on Life Ok from October 7.