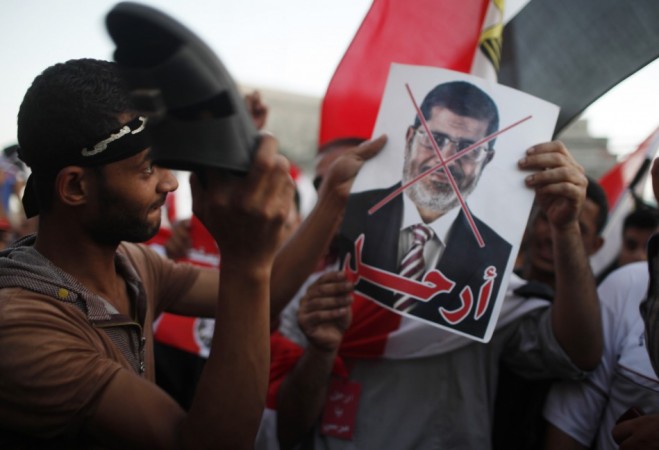 The mass protest in Egypt demanding the removal of President Mohammed Morsi has affected fellow Malaysian students studying in the transcontinental country.
Many Malaysians were seen bracing for the worst as Egyptian demonstrators took to the streets on Sunday seeking Morsi's resignation over failure to address economic issues since he was elected to the top post last year.
Hundreds of thousands had gathered at Cairo's Tahrir Square on Sunday, a scene reminiscent of the 2011 revolution against former President Hosni Mubarak's 30-year-rule. The demonstrations which started off on a peaceful note took a violent turn when protestors hurled stones and bombs at the headquarters of the Muslim Brotherhood. At least five were killed in the clashes between protestors and police, reported BBC.
According to the Malaysian Embassy in Egypt, the country has around 11,400 Malaysians most of which are students.
Syamsuddin Faruok, a Malaysian native, in the fifth year of his medical studies in Zagazig University told AsiaOne that his university was closed down on Sunday over safety issues and would remain closed the following day also.
"We were also informed by the Malaysian Embassy in Cairo to stock up on food and withdraw enough cash. This is just in case the shops are closed the next few days and prices of goods shoot up like it did during the last rally on Jan 25, 2011," said Faruok.
"You can say that we are somehow prepared for the worst. I have enough food for about five days or so."
Faruok was also worried of his impending exams this week which could be affected if the protests continue.
Like every Muslim, he voiced concern of the approaching holy month of Ramadan, "The fasting month starts in nine days. It is a month when we go for prayers at night and we still have classes," he said, adding that it would be "hard to get around."
Another fifth-year student, Intan Nur Atiqah Mohamad Yunus, braced herself by stocking up a week's supply of food and keeping her documents at hand should a situation ever arise.
"I have also told my family about what is happening and updated my personal details with the embassy and student council."
She said there were difficulties in withdrawing money from ATMs due to long queues. Some ATMs had limited withdrawals while a few were out of service.
As a part of safety precaution, Malaysian ambassador to Egypt, Dr Mohd Fakhrudin Abdul Mukti said, "We have deployed about 30 officers, including from agencies such as the Public Service Department and Mara, to meet Malaysians at various locations such as Tanta and Zagazig," according to reports.
The embassy had earlier issued a warning to Malaysians on 29 June and advised against any visits, in light of the unstable situation across the country.