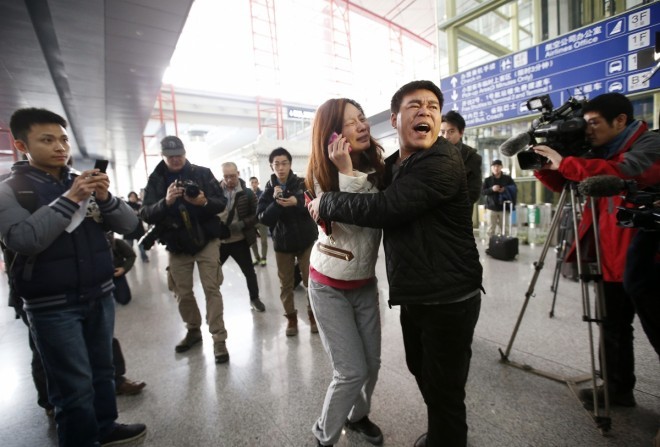 The mystery over what might have happened to the Malaysian Airlines flight MH370 has taken an eerie turn as the news that phones of the passengers rang without answer has sparked an online frenzy.
Also Read: Flight MH370 abducted by Aliens?
Co-Pilot Smoked, Flirted with Teen Girls inside Cockpit in 2011
Social media have gone into tizzy after reports that the concerned families of the missing Boeing 777-200 aircraft carrying 239 passengers were able to hear their relatives' phones ringing, but no one picked the call.
In an astonishing live video presented on state television, a relative was shown dialing the number of one of the passengers on the flight and the phone was heard ringing, Mirror Reported.
The development raised even more questions about what has happened to the missing flight as frenzied people have flooded social media demanding an answer to the ever growing mystery.
The flight has been presumed to have crashed off the Vietnamese coast on Saturday, after losing contact with the air traffic controllers off the eastern Malaysia coast.
Flight MH370 departed from Kuala Lumpur International Airport at 00:41am on Saturday (local time) and was due to arrive in Beijing at 06:30am (local time). Air traffic controllers reportedly lost contact at 01:30am.
As a report of a relative managing to call one of the passengers spread, Malaysia Airlines has repeatedly tried to call the same number, but no ringtone has been heard this time, BBC reported.
Investigators are still clueless on what went wrong with the aircraft even as the hunt for it has been widened with each passing day.
There are 34 planes, 40 ships and search crews from 10 different countries searching for the missing plane. As worried family members are awaiting for any progress, they have been told to be prepared for worse.
But with no other clue to go by, the 'ringing phone' mystery has only rekindled the hope of finding their loved ones alive.
Following are some of the reactions on Twitter on the bizarre 'ringing phone' mystery:
thought the missing plane couldn't get any stranger, until he heard that phone calls to passengers are ringing out. http://t.co/xvXx1rlYDV

— ɹ υ ѕ т ι и (@_Just) March 10, 2014
Cell phone of a passenger is being ringing when called :O Sumbody solve this damn mystery #MH370 http://t.co/RxYZ5nKFpY — ""Manoj"" (@Endless__fun) March 10, 2014
Several ppl on #MalaysiaAirlines are receiving phone calls from family members! Something is not right: http://t.co/53PsmPx9Ph

— MO® (@LeChiMo) March 10, 2014
So what *does* it mean when a phone rings? Is the call actually going through, or is there another explanation? http://t.co/4M0EQZA2ku — Brian Faughnan (@BrianFaughnan) March 11, 2014
The missing plane case gets stranger by the day. How do passengers' phones still ring if they crashed in water?