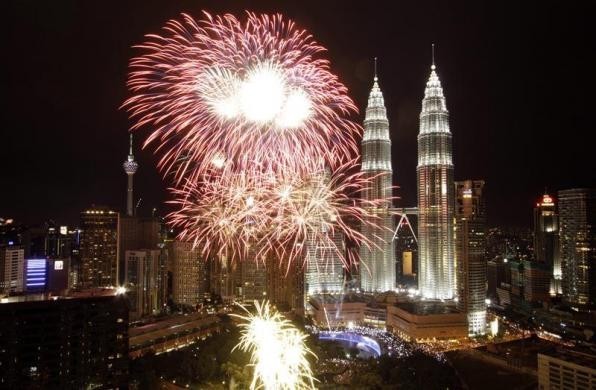 Malaysia's attempt at securing the title of top tourism hub for Indian tourists has seen the launch of Bollywood music album in collaboration of both countries.
The album titled "Tum Mile: launched as a part of the 'Visit Malaysia 2014' programme, comprises of old Bollywood songs of Kishore Kumar voiced by popular Hindi singer Kumar Sanu and Malay counterpart Princess Toh Puan Noor Suzanna Abdullah.
The album released recently in Mumbai features famous yesteryear songs and has been shot in scenic locales of Malaysia as a part tourism promotion. The album comprises of four songs, all of which are sung by Sanu and Royal Highness Toh Puan.
Praising the entertaining initiative, Tourism Malaysia Chairman Datuk Seri Dr Ng Yen Yen said, "Bollywood songs, superstars and movies are household names in Malaysia and command an extremely high following even amongst the non-Hindi speaking population."
"And now, with this beautiful musical compilation by two prominent individuals, one from Malaysia, and the other from India, it is our hope that the album 'Tum Mile' will further bridge our two nations together - through music, through tourism," reported Bernama.
Yen Yen pointed to the significance of Indian market for Malaysia tourism industry, "India is Malaysia's second largest tourism source market, with a total of 7,80,000 Indian tourist arrivals this year, and an expected 8,00,000 Indian arrivals next year."
"This one-of-its-kind celebration of Visit Malaysia Year-2014 compliments the growing interests among Indian tourists who visit Malaysia for its shopping, theme parks, beaches and islands."
Yen also stated that the Malaysian tourism ministry planned on promoting the country's image as the ultimate destination haven for weddings and honeymoon couples and also planned to attract adventure enthusiasts.
"There has been a significant rise of Indians tourists, who are not only coming to Malaysia for traditional tourism experiences and shopping but now we see that they are coming to celebrate important occasions like weddings and honeymoons and also to experience our adventure offerings," reported a website.
Yen Yen added that "the album will help generate renewed interest in the country" which is already a hot favourite among Indians for family holidays and luxury vacations.
Malysia's official Tourism site which boasts of the 'Malaysia Truly Asia' tag, provides an interesting collage of destinations the country has to offer right from rain forests, beaches, mountains, celebratory festivals to shopping destinations.