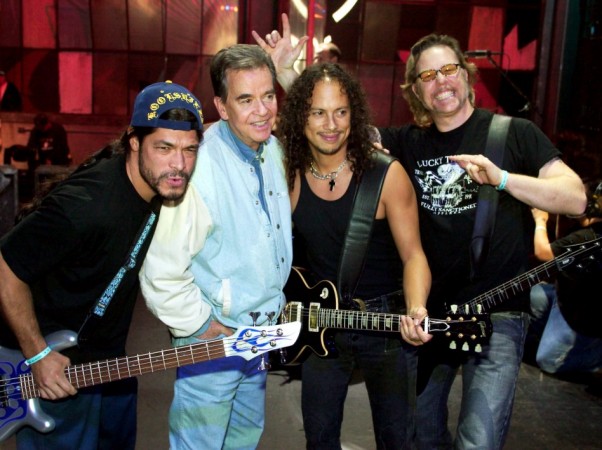 Fans of Metallica are in for delight as the American heavy metal band will be seen performing in Malaysia for the first time as a part of their Asian tour.
The official site of Metallica on July 3 stated: "We've said it before... with more than 30 years of traveling around the world behind us, there are very few places that we have yet to explore. So it's rather thrilling for us to be back with yet another first, a stop in Kuala Lumpur, Malaysia on August 21 at Stadium Merdeka."
For the band which has been performing ever since 1981, this is also the first time is its scheduled to perform in China.
The legendary foursome band comprising frontman James Hetfield, drummer Lars Ulrich, guitarist Kirk Hammett and bassist Robert Trujillo will perform in Kula Lumpur (Malaysia), South Korea, Japan, China and Singapore as a part of the band's Asian Tour.
With a huge craze for heavy metal rock, Metallica is expected to perform to packed house in Merdeka Stadium on 21 August as was the case when it played in Singapore in 1993.
The concert will be organised by prominent concert organiser Galaxy Group.
Speaking of the Metallica concert, Alan Chan, managing director of Galaxy Group said in an après release, "This is going to be an awesome concert experience."
The tickets priced at RM680, RM450, RM350 and RM195 will be available from 6 July, Saturday from 11:30 am in Farenheit 88 shopping mall in Bukit Bintang, Kuala Lumpur.The Galaxy Ticket Booth on the Ground floor close to the Information Counter in the Concourse area of the mall will sell the tickets.
To purchase tickets online, log on to www.ticketcharge.com.my and www.galaxy.com.my. Online tickets will be available from 8 July from 10.00 am (local time).
For other details of the Metallica concert, log on to www.galaxy.com.my.