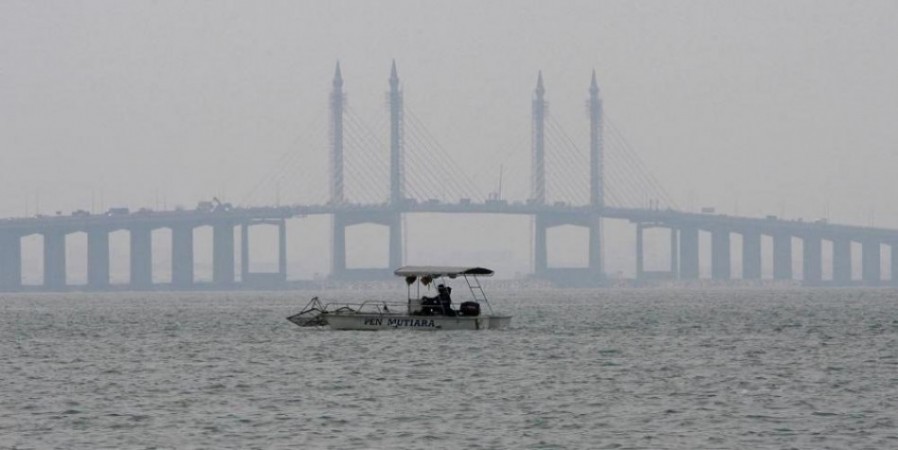 Body of an ex-cop has been recovered from the rubble of the Second Penang Bridge in Malaysia which collapsed on Thursday.
The body of 45-year-old Tajudin Zainal Abidin was recovered from the crushed Perodua Kelisa on the Tun Dr Lim Chong Eu Expressway. According to the state deputy police chief Assistant Commissioner, Datuk Abdul Rahim Jaafar, the vehicle was found buried under the debris of the collapsed section of the Batu Maung interchange of the Second Penang Bridge which is under construction.
Rescuers took almost four hours to extricate the body from the rubble before the mortal remains were taken to the Penang Hospital Mortuary according to the Star. SAC Abdul Rahim confirmed that there was only one body found in the crushed car. Earlier the police sources had said that at least four are believed to be killed after a section of the flyover fell on a car. A few injured, mostly workers, were hospitalized.
Meanwhile by 12.15 am on Saturday, rescuers extricated a badly damaged Land Rover from the rubble. The police are continuing their search and rescue efforts for any possible causalities.
Watch Penang ramp collapse rescue operation:
Credit: Staronline
Four tracker dogs have been deployed at the ramp collapse scene to sniff out victims. While two of the Labradors are assigned the task of locating any possible live victims, the other two are to search for victims killed in the collapse.
More than 300 rescuers, including policemen, firemen, firefighters, contractors and civil defense department personnel are continuing their efforts to clear of the rubble comprising mostly concrete and steel. Four hydraulic jacks are also installed at the site to clear off concrete slabs.
Many have blamed weak and inadequate scaffolding of the bridge under construction as the major reason of the collapse. The government has assured that it will set up a team of experts to investigate into the collapse of the bridge.
It may be recalled that the first Penang Bridge also claimed lives during construction. Within two year of the iconic construction project, which started in 1982, 10 lives were lost in various incidents according to the Star.