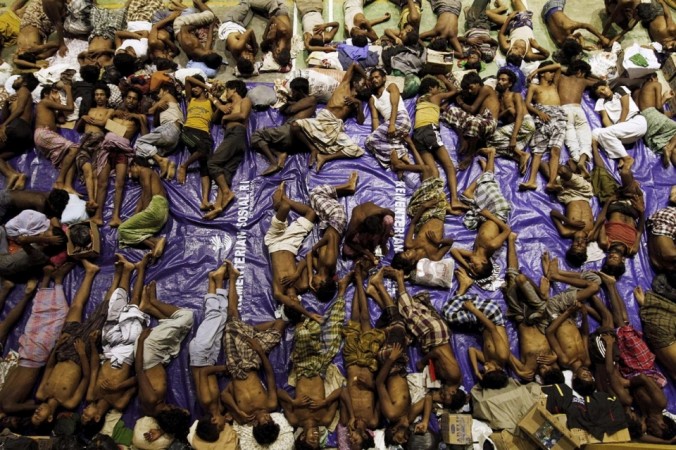 Malaysian authorities have recovered hundreds of decomposed bodies believed to be of Rohingya migrants from mass graves discovered around suspected human trafficking detention camps in villages and towns close to Thailand, local newspapers reported.
While admitting that some Malaysian nationals may also be involved in the illegal human trafficking, Home Minister Ahmad Zahid Hamidi revealed that some of the graves have been there for 'up to five years'. The graves were discovered in several small villages at the border town last week by Malaysian authorities.
The police, as of now, has discovered 30 large graves containing the remains of hundreds of people in two places in the northern state of Perlis, but the investigators fear there might be more.
"One grave maybe has three, four bodies. But we don't know how many there are. We are probably going to find more bodies," Zahid said, reported Malaysian newspaper The Star.
According to media reports, the mass graves were believed to contain bodies of hundreds of migrants from Myanmar and Bangladesh. The newspaper reported that nearly 100 bodies were found in one grave on Friday.
The area where the mass graves were discovered is a well-known smuggling route used by traffickers to bring people from Myanmar and Bangladesh to Southeast Asia. Earlier this month, 26 bodies of Rohingya Muslim migrants was discovered in Songkhla province in Thailand, a border down close to area in Malaysia where the mass grave was found this week.
The abject situation of thousands of Rohingya migrants fleeing violence in Myanmar, but stranded in the sea for several weeks, has sparked an international outcry for help.
Police are investigating a mass grave reportedly containing the bodies of about 100 Rohingya migrants in Padang Besar pic.twitter.com/DXEw5YOTEf

— Rusty Blade (@PisauKarat) May 24, 2015