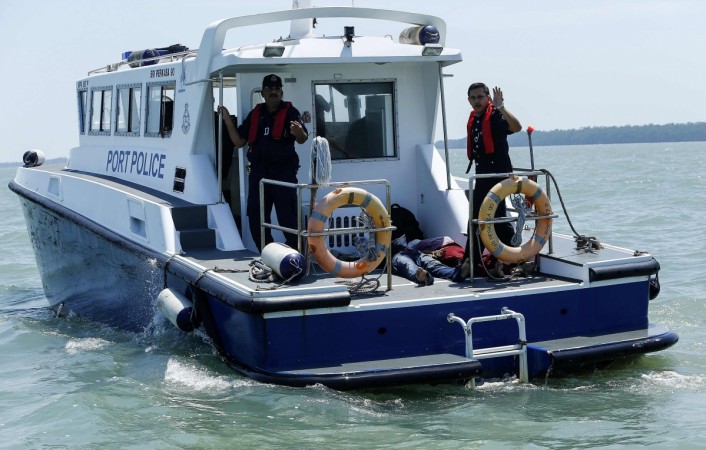 At least one person has died and 38 others are missing after an overloaded wooden boat carrying 97 illegal Indonesian immigrants, sank off the Indonesian Western coast into the Strait of Malacca.
Malaysia's New Straits Times has reported that as of 2 pm on Wednesday, some 61 out of the 97 passengers of the ferry that capsized along the coast of Banting, have been rescued while a remaining 35 were still missing. The boat capsized after being hit by a storm.
The newspaper reported citing police chief superintendent Azman Abdul Razak that the ferry, carrying illegal immigrants, mostly Indonesian nationals, en route to their homeland, had left Pulau Carey, an island in Selangor, Malaysia in the western coast, located to the south of Port Klang and north of Banting town.
The ferry, carrying men and woman between the ages of six and 60, capsized at about 12 am Wednesday some four nautical miles off the western coast. 60 rescuers from the Police, Fire and Rescue Department, Civil Defence and other authorities have so far been helping in the rescue operations, according to reports.
13 vessels and one helicopter were among the assets deployed at the scene, ever since a distress call was received early Wednesday morning. Four small boats and several fishing boats were also helping with rescue efforts.
Although it has been confirmed that the boat was an illegal one, there are conflicting reports on where exactly the ferry was heading. According to Muhammad Zuri, an official with the Malaysian maritime Enforcement Agency, cited by Reuters, the boat was possibly heading to another part of Malaysia. Another rescue operation was later cited as saying the vessel was heading from Malaysia to Indonesia's nethermost province of Aceh.
Death toll is expected to rise, although there is growing optimism that the rescue team would be able to pull more people alive.
"The chances of survival (of the missing passengers) were still high as it was still less than 24 hours since the incident happened," superintendant Razak told a press conference held in the area.
An unidentified fisherman also told the New Straits Times that the storm, that caused the accident, started at about 10:10 pm local time Tuesday.