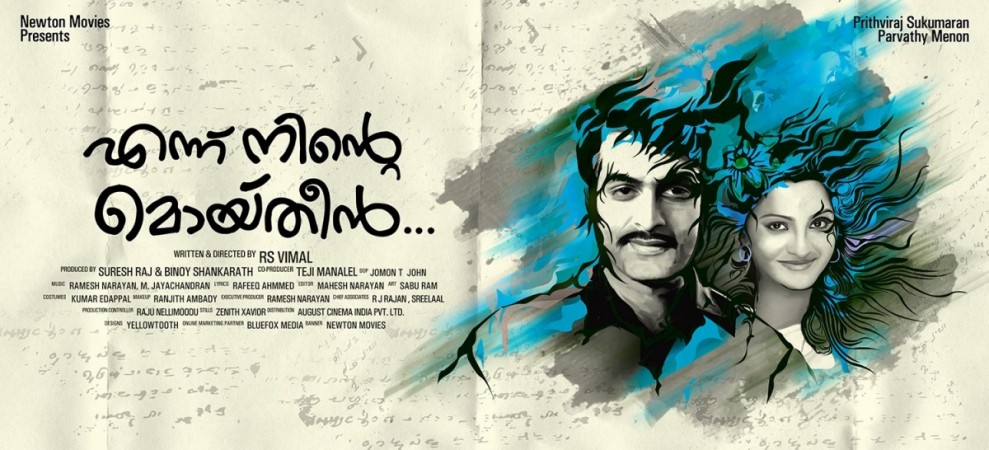 Shooting of 'Ennu Ninte Moideen' Begins
The shooting of the much awaited Prithviraj-Parvathy starrer "Ennu Ninte Moideen" began. The film is inspired by the real life love story of Moideen, a Muslim and Kanchanamala, a Hindu who lived in Mukkam near Kozhikode, Kerala.
It is the first Malayalam film to have its complete story board in digital format. The film also has Lal, Lena and Sreejith Ravi in pivotal roles.
"Ennu Ninte Moideen" is written and directed by R. S. Vimal. The cinematography is done by Jomon T John, while the editing is by Mahesh Narayanan.
The film's music is done jointly by Ramesh Narayanan and M. Jayachandran and the lyrics are penned by Rafeeq Ahmmed.
"Ennu Ninte Moideen" is produced by Suresh Raj and Binoy Shankarath under the banner of Newton Movies.
Mammootty's "Rajadhi Raja" Trailer to be Released Soon
The trailer of Mammootty's upcoming mass film "Rajadhi Raja" is all set to release soon. The background score of the trailer done by Gopi Sunder is in its final stages. The film is set to release this Onam on 5 September. Other Onam releases include Mohanlal's "Peruchazhi", Dileep's "Villali Veeran" and "Sapthamashree Thaskaraha:" starring Prithviraj and Asif Ali.
"Rajadhi Raja" also has Laxmi Rai, Siddhique, Joy Mathew, Lena, Joju George, Mukesh Khanna and Taniya Stanely in important roles.
Directed by debutant Ajai Vasudev, the Mammootty starrer is scripted by Uday Krishna and Sibi K Thomas. The cinematography is handled by Shaji and the editing is done by Mahesh Narayanan. The film is produced by M. K. Naseer under the banner of Goodline Productions.
Mammootty's Campaign against Drug Addiction Gains Popularity
Mammootty's social media campaign against drug addiction among the youth is gaining popularity.
"Addicted to Life" is a year long campaign done with the help of Kerala State Beverages Corporation, aimed to curb the usage of drugs and to create awareness among the youths in colleges and schools.
The Kerala government initiative was launched by Chief Minister Oommen Chandy.
Celebrities and personalities from various industries have joined Mammootty with his mission, that will make maximum use of social media networks like Facebook, Whatsapp and YouTube.
Celebrities like Dulquer, Unni Mukundan, Jayasurya, Honey Rose, Anoop Menon, Bhavana and Kaniha have joined the campaign by changing their profile picture with the campaign logo.
The Facebook page of the social mission became very popular and crossed 50,000 likes within 48 hours of its launch.