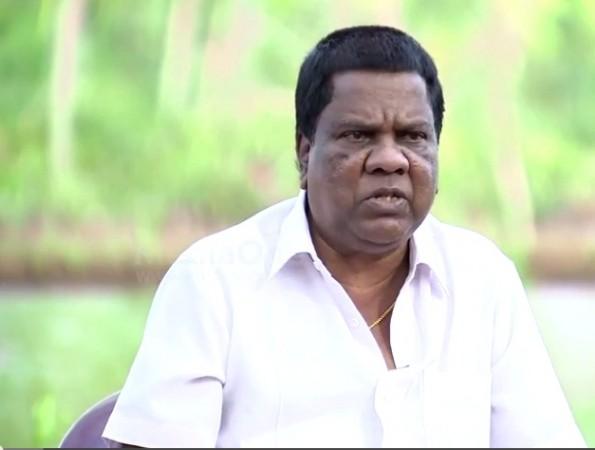 Malayalam veteran actor Mala Aravindan, who has been undergoing treatment at a private hospital in Coimbatore, is said to be in a critical state.
The actor suffered a minor heart attack on Monday and was taken to the hospital. He was later shifted to the intensive care unit of the hospital after another massive attack on Thursday.
"Mr. Aravindan had difficulty in breathing, according to Thomas Alexander, interventional cardiologist at Kovai Medical Center and Hospital, where the actor was admitted on Monday following a cardiac arrest. He was under constant observation at the intensive care unit," reported the Hindu.
Meanwhile, some hoax reports on Mala's death caused frenzy among fans, friends and colleagues.
Mala Aravindan who has acted in over 400 movies, is one of the most prominent faces in Malayalam cinema and is known for his comic roles for decades.
Mala is a proven talent when it comes to music, theatre and cinema. He began his career as a Tabala artist for an amateur play. It was destiny that led him to the world of theatre when he bagged a substitute's role by chance.
His role became a hit and led him into the world of acting as a permanent theatre artist. He went on to do many professional plays with reputed theatre companies. He had also won the Kerala State Nadaka Academy's Best Actor award for his role in Sooryasoma's play "Nidhi".
He made his debut with Malayalam movie was Balakrishnan "Sindhooram" in 1969 in a small role. After the initial stint, Mala cemented his position in the industry with his own style of dialogue-delivery and comic timing. Soon, he became an inevitable part of Malayalam cinema along with stalwarts like Pappu and Jagathy and the deadly comic combination of the trio assured success to the producers.
Some of his popular films are "Ente Gramam", "Tharavadu", "Adhikaram", "Alorongi Arangorungi", "Thadavara" and "Meesamadhavan".