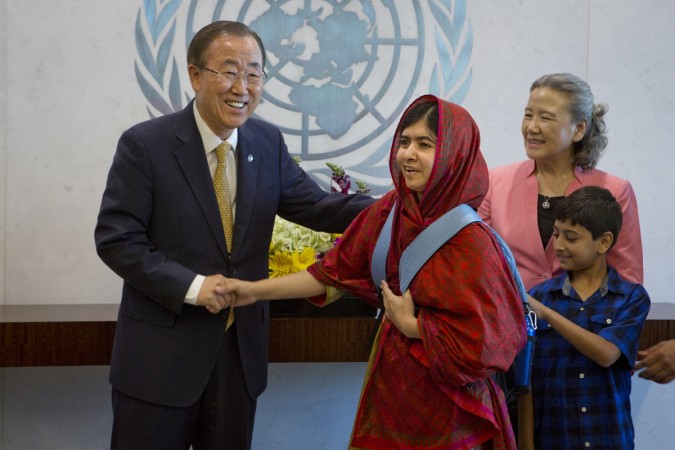 The school uniform worn by youngest Nobel Prize winner Mala Yousafzai when she was shot by the Taliban is a part of the Nobel Peace Prize exhibition of 2014. Yousafzai is set to receive the Nobel Medal in Oslo Hall in Norway and her blue-and-white school uniform has been unwrapped for the exhibition.
On 9 October 2012, a Taliban gunman shot then 14-year-old Yousafzai, while she was going to school; this was in defiance of their diktat against girls' education in Swat Valley, Pakistan.
The education activist barely survived the near-fatal shot after extensive treatment in a UK hospital and became a symbol of resistance against fundamentalist forces across the world over the next couple of years. Yousafzai was awarded the Nobel Peace Prize for her "struggle against the suppression of children and young people and for the right of all children to education" on 10 October 2014.
"Malala's blood-stained uniform is a strong and heartbreaking symbol of the forces many girls are fighting for the right to go to school", said Bente Erichsen, Executive Director of the Nobel Peace Centre."The uniform has been kept by the family since the attempted murder in October 2012, and we are grateful that Malala has chosen to show it to the public in our exhibition."
The bloodied school uniform worn by Malala Yousafzai, when she was shot, prepared for an exhibition in Oslo. pic.twitter.com/mIBrbBhPfs

— Pakistan Photos (@PhotosPakistan) December 5, 2014
"My school uniform is very important to me because when I was going to school I would wear it," Malala said in an interview, "The day I was attacked I was wearing this uniform. I was fighting for my right to go to school, I was fighting for my right to get education. Wearing a uniform made me feel that yes, I am a student; I am doing it, practically. It is an important part of my life, now I want to show it to children, to people all around the world. This is my right; it is the right of every child, to go to school. This should not be neglected."
The symbolic uniform would be part of the exhibition opened by Yousafzai, and fellow Nobel Peace Prize laureate Kailash Satyarthi, a child rights activist from India, on 11 December. The exhibition would be open to the public from 12 December and would offer free entry for all, throughout the year.
Watch Yousafzai's Nobel Peace Prize acceptance speech: