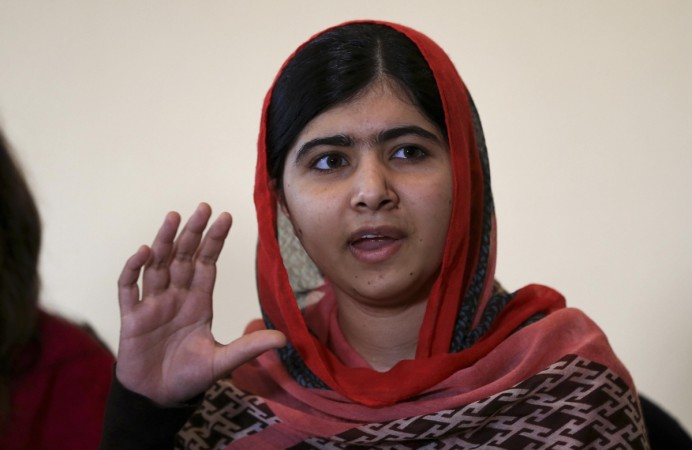 Pakistani teen and education activist Malala Yousafzai – who was shot in the head by the Taliban in response to her campaign for the right to education for girls – vowed on Sunday to do everything she can to help free the group of Nigerian schoolgirls kidnapped by Islamist militants three months ago.
The teen – who rose to fame after her miraculous survival after being shot at the head – met with the parents of the more than 200 girls who were abducted by the militant group Boko Haram from their school in April. The brazen attack and abduction of innocent girls – mostly belonging to the Christian minority – triggered an international outcry including massive twitter campaign with the hashtag #BringBackOurGirls.
Michelle Obama and Angelina Jolie are among celebrities who are involved in the campaign and are pressing the authorities to find the hostages who are still being held by the notorious extremist group.
Multiple news sources have reported that parents of the girls gathered on Sunday at a hotel in the Nigerian capital of Abuja – many of them breaking down into tears as Malala spoke.
"I can see those girls as my sisters...and I'm going to speak up for them until they are released," Malala, who turns 17 on Monday, said. "My birthday wish this year is...bring back our girls now and alive".
Reports suggest that the Pakistani teen activist was scheduled to meet President Goodluck Jonathan in the capital on Monday; exactly three months after those 276 girls were abducted by the extremist group from their school in Chibok.
Malala separately met with leaders of the #BringBackOurGrils campaign group, 15 parents of the kidnapped girls and five of the girls who escaped from their abductors.
Encouraging the girls to fight against all odds and continue with their quest for knowledge, Malala said, "The situation at Chibok is the same as the situation in Swat where some extremists stopped more than 400 girls from going to school."
"We will be here one day and see all of your going to school, getting an education," she added as she asked the Nigerian authorities to pay serious attention to the plight of the abducted schoolgirls.