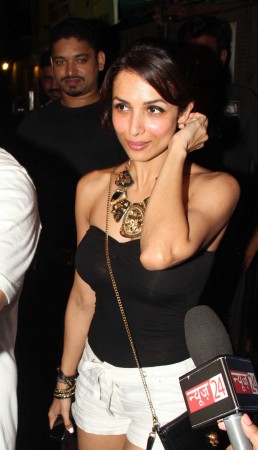 Malaika Arora Khan, who allegedly had an extramatrial affair with Arjun Kapoor for quite some time now, finally broke her silence over the much-publicized affair, dismissing it as just a rumoured link-up.
Rumors started doing the rounds regarding the alleged affair between the "2 States" star and Malaika, after Kapoor broke up with Salman Khan's younger sister Arpita Khan.
Back in 2013, Kapoor had denied link-ups with Malaika, who is Salman's sister-in-law, stating that Salman would have killed him, if there was any truth in it. Kapoor considers Salman as his godfather as it was the "Dabaang" star who boosted his confidence and urged him to take up acting.
But the 'Munni' of Bollywood, who chose not to respond to the rumours earlier, opened up recently. She stated that she always ignores such reports and does not believe in providing any clarification regarding the same as it's just a waste of time.
"Nothing really went through my head because I don't really give these issues too much importance in my life. Clearly, because you can't sit and justify or give a reason every now and then, because it's a waste of time. It's a figment of people's imagination for whatever it's worth. I never gave a justification and I don't really wish to do the same now," Bollywoodlife.com quoted Malaika as saying.
Malaika also said that her husband Arbaaz Khan dealt with the rumours well.
"He dealt with it pretty well. He said what he had to say and I didn't feel the need to say anything more," she said.
This is not the first time that the "Gunday" actor has been linked to a Bollywood hottie. Kapoor was also rumoured to be in a relationship with his "2 States" co-star Alia Bhatt.
Kapoor will be seen next in Homi Adajania's "Finding Fanny". The movie will also feature Deepika Padukone in the lead and is slated to release worldwide on 12 September.