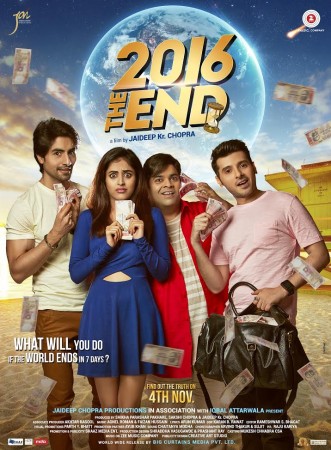 The makers of the movie 2016 The End have released the trailer of the film. Starring Kiku Sharda, Divyendu Sharma, Rahul Roy, debutants Harshad Chopda and Priya Banerjee among others, the film is a comedy drama.
The story of 2016 The End revolves around some friends who realise that the world will end in seven days and then they set out to fulfil their desires.
"It's a young and vibrant film. It's about what will you do if you knew you had only 7 days to live? People have different aspirations in life but we take life for granted. I am very happy with the way the film has turned out and I hope that the audiences will love the film too," said director Jaideep Chopra in a statement.
Talking about his experience working for the film, Kiku said, "2016 The End, is a very special film for me and the biggest reason is that I haven't done many films and also the whole concept of the film is good, that's the reason why I got attracted to the idea of doing this film. Imagine if you knew you had only seven days to live or 8 days or how many ever, would you still keep planning like we keep planning our lives so much right from insurance to policies."
"If you are told the time limit of your remaining life, it changes everything and everything you do. Jaideep Chopra is very very sorted in his head as to what exactly he wants to make, it was impressive to hear the script from him and the entire cast is fantastic. I loved being part of the film and after seeing the end product I am even happier," he added.
The film is produced by JP Productions and will be released on November 4. Check the trailer below: