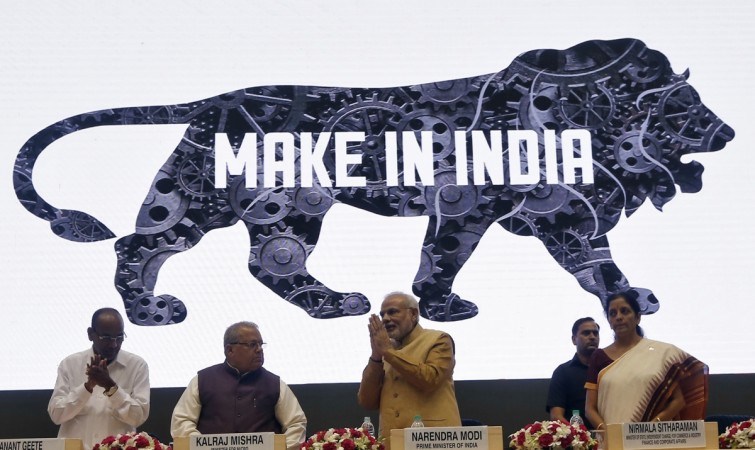 In the wake of allegations of plagiarism over the symbol of Narendra Modi's "Make in India" initiative, Department of Industrial Policy & Promotion secretary Amitabh Kant took to Twitter to explain about the government's choice of the mechanical lion as the logo of the programme.
"Since time immemorial Lion has been the official emblem of India. Stands for courage, tenacity & wisdom - all Indian values," Kant tweeted.
"The logo is inspired by India's strongest symbol ever- The Ashoka emblem+ a bit of RBI," Kant said in a tweet.
"Wheel in Ashoka Chakra forms the centerpiece of India's national flag. Wheel denotes peaceful progress & dynamism," Kant said in another tweet.
A media report had alleged that 'Make in India' symbol significantly resembles a picture of 'a lion with wheels' used by a Swiss bank in its campaign.
The lion image used to represent "Make in India" bears a remarkable similarity to the symbol depicted in "a sponsored campaign of the Cantonal Bank of Zurich in Switzerland," said a report on thenewsminute.com.
"Designed by Swiss designer Nadine Geissbulher, it was launched on July 4, 2013," the report said.
"Make in India" was launched by PM Modi on 25 September, 2014.
"We will take this head on. These allegations are being made by a competing agency with malicious intentions. When we had announced the campaign, we made it clear that the wheels were from the Ashoka Chakra. This is defamatory," a government official told The Economic Times.
The report has led to a tweet that questioned, "Even the Make in India lion was not Make in India?"
An Indian division of US agency Wieden+Kennedy had designed the industrial lion symbol for the "Make in India" campaign.
Countering the plagiarism charges, Executive Creative Director of Wieden+Kennedy V Sunil said: "For starters, the Ashoka is one of the strongest symbols of India, it's a natural and obvious connection — the four lions and the chakra - wheel of progress. When we decided to use the lion, that's what we were thinking."
"The industrial wheels design is just one of 30 lions, each represents a different sector — auto parts, textiles, etc. This is amusing. There's absolutely no reason for a country like ours to copy some random lion off a train," Sunil added.