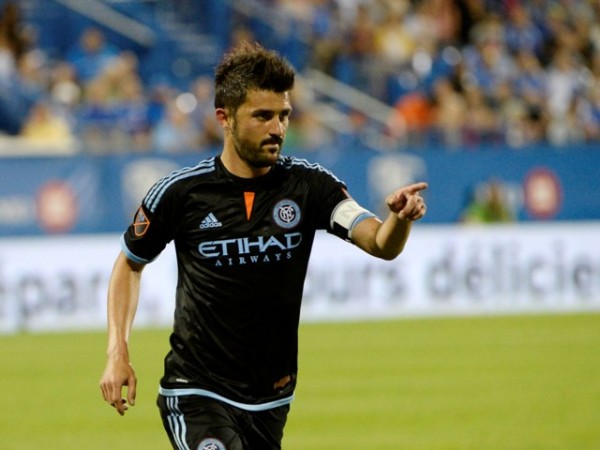 For a football fan, it's nothing short of a dream to see the game's greats play alongside each other. However much as football fans would love to see such a dream come true, it remained elusive.
Now, Major League Soccer (MLS) team New York City FC has managed to do the unthinkable.
It is not everyday that you see England midfielder Frank Lampard playing alongside Spanish hotshot striker David Villa. To add to it, Italian legend Andrea Pirlo is also introduced to the party.
Pirlo, 36, completed his move to the MLS outfit on 6 July, where according to ESPN, he is expected to make his debut with the club on 26 July against Orlando City, at the Yankee Stadium in New York.

Chelsea legend Lampard, all set to make his MLS debut against Toronto on 12 July, agreed to join the New York outfit last summer, but spent the 2014-15 season on loan at Manchester City, the New York outfit's partner club.
Spain's all-time topscorer Villa, 33, agreed a move to the New York side in January 2014. He already has eight goals from 15 matches in the MLS, and the former Barcelona star had also opened scoring in a 2–0 win over the New England Revolution for the team's first competitive victory in 2015.
"David and Andrea are at the top of the list, I'm a lucky man to be in the same squad as them," Lampard, 37, was quoted by the BBC.
"I've been watching all the games. I know every player and how they play. It will be a pleasure to play with them every day."
However, one thing is certain that when two dead ball specialists are present in the line-up, a conflict of interest cannot be prevented as to who takes the set piece.
Taking precautions beforehand, three-time Premier League winner Lampard gives the green signal to Pirlo to take the "first one".
"I think Pirlo is the best at getting his ball to dip and dive off the free-kick. He can have the first one!" the former England international said.
Lampard has also gone on to say that playing alongside the stars will not be much of a problem for him as he has played with "top players" in the past as well, and that he knows how to deal with it.
"I am used to playing with top players so I can deal with everything here. You have to thrive on pressure," Lampard told The Guardian.
Lampard, Pirlo and Villa fulfil MLS' Designated Player rule - where each MLS franchise needs to sign players that would be considered outside of the team's salary cap (either by offering the player higher wages or by paying a transfer fee for the player).
The rule also allows MLS teams to compete for star players in the international soccer market.
Currently taking part in their maiden MLS campaign, New York City sit seventh in the 10-team Eastern Conference, after 18 games so far.