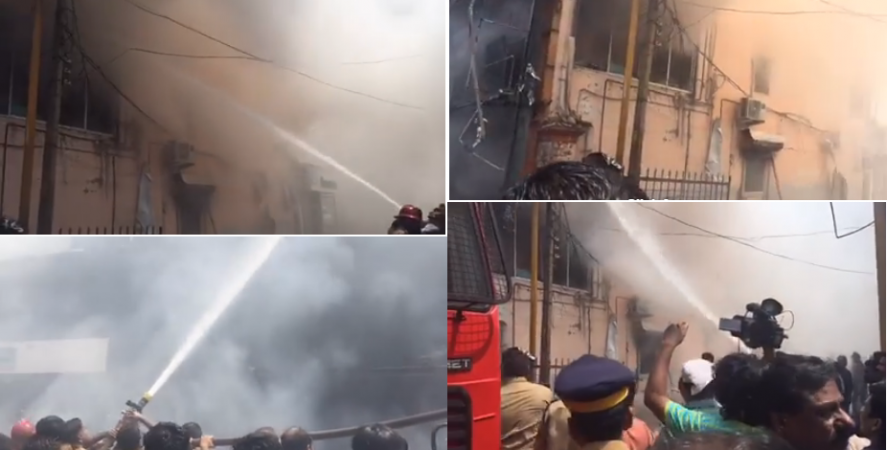 A major fire broke out on commercial street Mittai Theruvu (also spelt Mittayitheruvu or SM street) in Kerala's Kozhikode town on February 22. A three-storey textile showroom was completely damaged.
The fire broke out at around 11:30 am on Wednesday at Modern Handloom and Textiles shop near Radha Theatre. It is believed that the fire was triggered by the explosion of a gas cylinder. As many as seven fire engines have been stationed at the spot. All shops have been shut following the fire. As of now, no causalities have been reported.
Live updates:
02:00 pm: Situation under control.
01:30 pm: Fire force unit from Karipur airport have arrived.
01:00 pm: Following the mishap, a meeting of the merchants' association will be held on February 23.
12:58 pm: Water tankers of Kozhikode Corporation have also arrived at the spot for rescue operations.
12:52 pm: District collector claims that the fire mishap occurred due to short circuit.
12:50 pm: Four cylinders are said to have been taken out of the shop.
12:42 pm: More gas cylinders are found inside the shops.
12:40 pm: Reports suggest that more fire force vehicles will arrive at the spot fom neighbouring districts.
12:35 pm: Authorities claim that there are chances of the fire spreading to more shops.
12:30 pm: Kozhikode collector UV Jose, Kozhikode MP MK Raghavan and Mayor Thottathil Raveendran have arrived at Mittai Theruvu.
12:25 pm: Police officials have restricted the entry of public to Mittai Theruvu.
12:22 pm: More fire force units have arrived the spot.
Kerala: Fire breaks out at SM street (Mittai Theruvu) in Kozhikode; More than 8 shops gutted; Fire tenders at the spot - ANI tweeted.
12:20 pm: Five other shops are also said to be affected by the accident.
12:15 pm: Modern handloom and textiles has been completely damaged
Earlier, in 2015, on May 13, at least 10 shops were also damaged following a fire.
More details awaited.
Meanwhile, watch the videos of the fire accident in Kozhikode here:
-
-
-