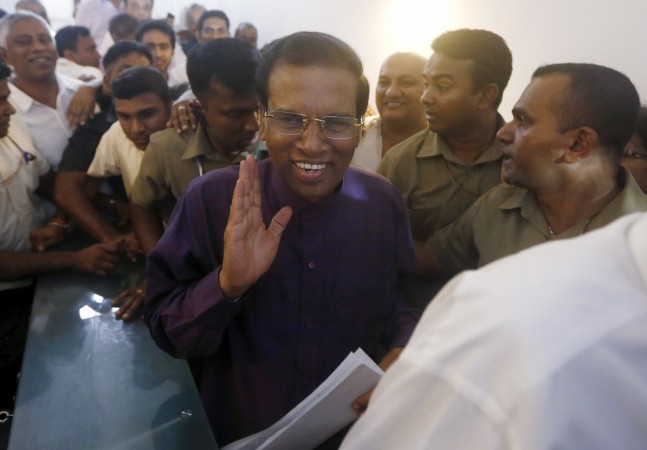 Sixty-three-year-old Maithripala Sirisena has been selected as the executive president of Sri Lanka following the 8 January elections, in which over 11 million people voted. While the man has gained much popularity among his countrymen, the former ally of Mahinda Rajapaksa still remains an enigma.
Some call the new president a "traitor" for opposing Rajapaksa in Sri Lanka's seventh presidential elections, while others hail him as the much-neded shift from Rajapaksa's rule of over a decade. Whatever he be described as, the man knows how to play his cards right.
Sirisena, the son of a World War II veteran, studied at Maxim Gorky Literature Institute in the erstwhile USSR and was jailed for 15 months in 1971 for his alleged involvement in an insurrection led by the Marxists. He was just 16 years old, when in 1968, he got the first taste of an anti-government rally organised by a Communist party, according to the Guardian.
When he joined mainstream politics, Sirisena was offered the prime minister's post by Rajapaksa's predecessor Chandrika Kumaratunga but he turned it down. The first time he won a seat in parliament was in 1989.
Sirisena, a former health minister in Rajapaksa's cabinet says he left his former leader to wipe out corruption from the country. "I came out because I could not stay anymore with a leader who had plundered the country, and looted government and national wealth," Sirisena revealed during a campaign meeting.
Around 25 Rajapaksa loyalists in the 225-seat parliament followed Sirisena owing to a popular disgust against the leader's known habits of nepotism and corruption.
His popularity among Sri Lanka's Sinhalese Buddhist majority, who account for 70% of the island's 21-million population, also accounts for the defeat of Rajapaksa, who served as a president for two consecutive terms. The farmer-turned-politician became a rallying point for Sri Lankans dissatisfied with the Rajapaksa regime.
His attempt at dethroning Rajapaksa was completely unexpected, especially since the last time a former loyalist, the general who commanded the offensive which destroyed the LTTE 2009, tried to oust him, he ended up in prison.
Sirisena, a practicing Buddhist with a reputation for honesty and hard work, will be swearing in as the president of Sri Lanka at 6pm on 9 January at the Independence Square.