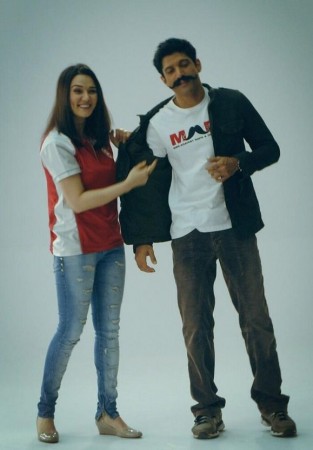 South star Mahesh Babu and Indian batting maestro Sachin Tendulkar are the latest to join actor-director Farhan Akhtar's MARD (Men Against Rape and Discrimination) campaign.
Farhan Akhtar began the MARD campaign to raise awareness about gender inequality and safety for women in India. The campaign was spearheaded during the sixth season of the Indian Premier League (IPL) as well as on social networking sites. Several film personalities and cricketers have come forward to support the campaign. During the IPL, some of the film stars and cricketers were seen sporting moustache as a symbol of showing their support for MARD.
The latest to join the legion of people supporting the campaign are Mahesh Babu and Sachin Tendulkar. Both have lent their voice to record a poem, written by Farhan's father Javed Akhtar. The poem "Jiske Aankhon Mein Hai Jagmagati Hui" is being used as a promotional song and is getting translated to several Indian languages including Telugu, Bengali and Urdu so as to reach maximum people.
Mahesh rendered the poem in Telugu, while Sachin lent his voice to record the Marathi version. "#MARD poem recorded in Marathi and Telegu (Telugu) by Sachin Tendulkar and Mahesh Babu. Our voice for equality and end to violence grows stronger," Farhan Akhtar tweeted.
The idea of starting a campaign was first conceived by Farhan after his employee 25-year-old Pallavi Purkayastha (a lawyer by profession) was sexually assaulted and murdered by her home watchman. He started the campaign in support of safety for women following the gruesome rape and killing of a Delhi-based physiotherapy student in December 2012.