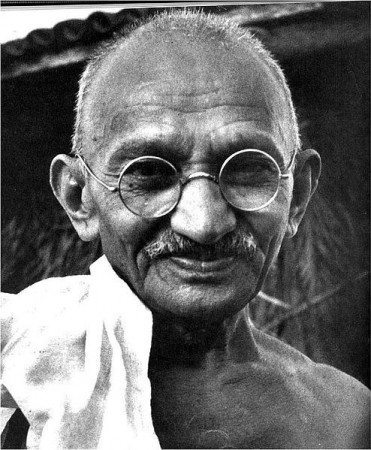 Three letters, written by Mahatma Gandhi to his eldest son Harilal, will be auctioned in England next week. The letters give information about the troubled relationship that the peace-loving Gandhi was sharing with his eldest son.
Harilal is one of Gandhi's four sons and was born in 1888. He had reportedly shared troubled and tense relationship with his father. Harilal wanted to go to England to become a barrister, but his father was opposed to his decision. This led Harilal to cut family ties and continue to have a troubled relationship with his father.
In June 1935, Gandhi wrote three letters in Gujarati addressing to his son. The never-before-seen letters, hand written by Gandhi, have been authenticated by Professor Tridip Suhrud, a leading Gandhian scholar and current director of the Sabarmati Ashram Preservation Memorial Trust.
In one of the letters, Gandhiji accuses Harilal of raping his own daughter Manu when she was just eight years old. "Manu is telling me a number of dangerous things about you. She says that you had raped her before eight years and she was so much hurt that medical treatment was also to be taken. She permits anyone to ask about this incident. I am getting more and more pained by this," according to a translation from Gujarati (written by Gandhi) provided to The Tribune.
Suhrud told The Tribune that there is a possibility Harilal might have physically assaulted his daughter. But, whether she was actually raped by him is open to clarification because of the usage of the term 'balatkar.' "The word 'balatkar' means rape, but in Gujarati it also means 'use for force'. So I'm not trying to defend, I'm just saying there is the possibility of a different kind of usage," Suhrud told the news daily.
Gandhi also mentions about Harilal's illicit relationship with his dead wife's sister Bali. In the letter, Gandhi asked his son if he was suffering from syphilis.
In another letter, Gandhi has referred to his son's alcoholic problems. "Please let me have pure truth please tell me if still you are interested in alcohol and debauchery. I wish that you better die rather than resort to alcohol in any manner," Gandhi wrote, according to a statement from Mullock's Auctioneers.
The letters will be auctioned by the Mullock's on 22 May. They are expected to fetch between £50,000 and £60,000 (approx Rs 50 lakh - Rs 60 lakh) during the auction.