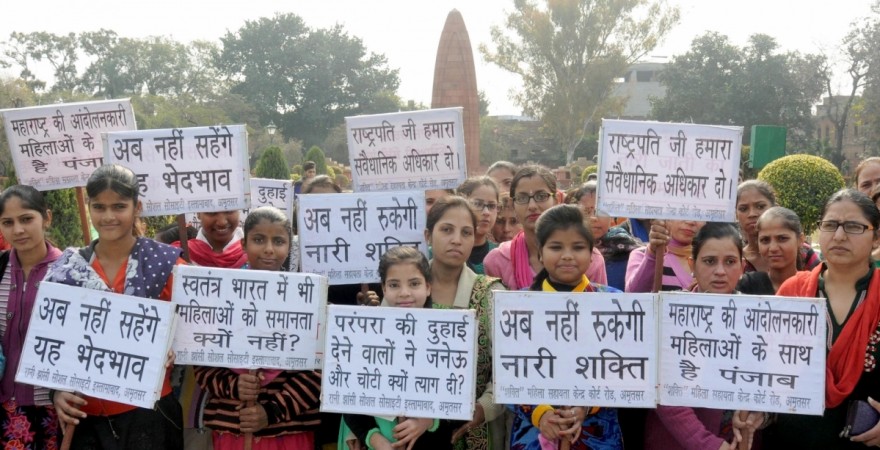 Women activists who attempted to enter the sanctum sanctorum of the Shani Shingnapur temple in Maharashtra's Ahmednagar district Saturday were opposed by locals and had to be taken away by the police to safety. The villagers' protest against the women's group came despite an order by the Bombay High Court this week wherein it stated women had the fundamental right to enter any place of worship.
Activists from the Bhumata Ranragini Brigade who reached Ahmednagar Saturday to offer prayers at the Shani Shingapura temple's inner sanctum were reportedly roughed up by locals and were also stopped by temple authorities.
The Bombay High Court had Friday ordered the Maharashtra government to implement the Maharashtra Hindu Places of Public Worship (Entry Authorisation) Act, 1956 to ensure women had the right to enter places of worship. The Devendra Fadnavis-government had said it will comply with the court's orders and threatened a six-month jail-term to those who opposed women's entry into temples.
The women, led by activist Trupti Desai, said they will not turn back and vowed to enter the temple's inner sanctum. "This is murder of democracy. Police should have allowed us to enter sanctum with protection," Desai said, according to ANI news agency. "We are not going to turn around, and if need be we will file an FIR against the Maharashtra Home Minister and Chief Minister."
The Shani Shingnapur temple, which is dedicated to the Hindu god Shani, has a centuries-old ban on women entering the sanctum sanctorum. Last year, temple authorities had carried out a cleansing ritual after a woman entered the sanctum sanctorum to offer prayers.
However, women activists had filed a petition seeking entry to the temple's sacred area, and on Wednesday, the Bombay High Court ruled in their favour. "Women cannot be barred from entering Shani Shingnapur temple. Even women can go where men can," the High Court said.