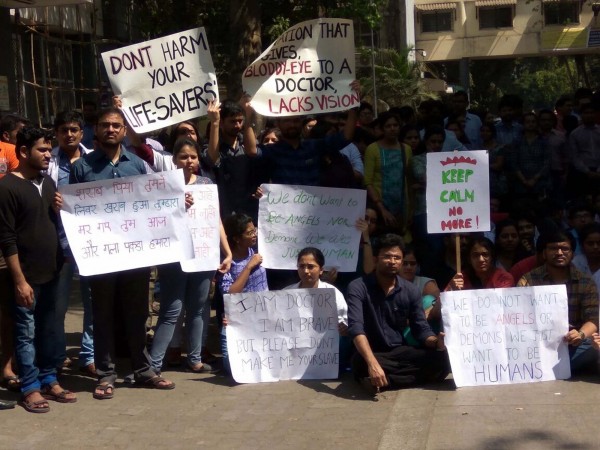 The Dean of Government Medical College, Nagpur suspended 301 of its resident doctors on Wednesday for continuing a strike for the third day, despite high court orders against it.
The BrihanMumbai Municipal Corporation (BMC) served notices to 500 resident doctors on strike on Wednesday, and asked them to resume work as soon as possible in the wake of the Bombay High Court directions, else face the consequences.
They have also been warned by the Maharashtra Medical Education Minister Girish Mahajan that if they don't come back to work by 8pm on Wednesday, then six months' pay would be docked.
Also on Wednesday, Mumbai's JJ Hospital initiated the expulsion process of doctors who were striking over recent incidents of assault against them.
The high court postponed the hearing of the matter to Thursday, after warning doctors to resume work or they would face contempt charges. The doctors have been on strike since Monday after two doctors were beaten up in Dhule and Sion by families of the patients who died in their care.
The high court also shamed doctors on Tuesday during a hearing, saying they can't work like regular workers and if they are fearful for their safety they should resign from their jobs.
Thousands of patients have been suffering since Monday, several surgeries were cancelled and patients were turned away from Out Patient Departments (OPD).
At least 4,500 resident doctors from major civic hospitals in Mumbai have been on strike. According to an activist, 58 patients have died since Monday.
"Mass leave is creating a lot of problems, patients cannot be left alone. Doctors should abide by their duties. It is not considerable," said a relative of a patient in Mumbai.
"My wife is suffering burn injuries and it's been four days now. She is not being treated," a relative of one of the patients outside Sion Hospital told ANI.
Activist, Afaq Mandaviya, who filed a PIL during doctors' strike in 2016 claimed that Maharashtra Association of Resident Doctors (MARD) said it would not strike, and was in violation of its own undertaking.
MARD said the doctors were participating in their individual capacity and the association was not part of the strike.
19 MLAs suspended
Apart from the 301 doctors, 19 Opposition MLAs were suspended from the state Assembly for nine months — until December 31, 2017 — for creating a ruckus during the budget announcement on March 18.
Opposition MLAs burned copies of the budget outside the Assembly to express their disappointment over the budget.
The state finance minister, Sudhir Mungantiwar, had not made any announcements over loan waivers for farmers, despite opposition MLAs asking for it.