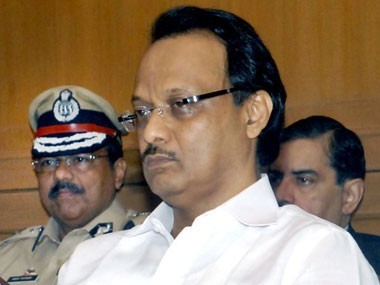 There seems to be a wind of change blowing over the political scene in Maharshtra that will go to polls in October this year. Seat-sharing in the polls on a 50:50 basis is the biggest issue of contention between long-standing alliances of the Indian National Congress and the Nationalist Congress Party and between Bharatiya Janata Party and Shiv Sena.
The decade-long alliance between Congress and NCP seems to be on shaky grounds, with Chief Minister Prithviraj Chavan of the Congress and Deputy CM Ajit Pawar of NCP at loggerheads over the number of seats each party should contest.
Pawar had earlier mooted the idea that NCP should go into the state polls on its own this time, breaking away from the decade-long partnership, if the party is not given 144 of the 288 seats.
Chavan has, however, rejected this possibility of a 50:50 seat sharing. "There is no question of accepting the 50:50 formula proposed by the NCP. If they do not agree, we are prepared to terminate the alliance," he told the Times of India.
He also warned the NCP to show the national party some respect if it wanted its support. "We will not compromise with our self-respect. If we don't get respect, we will not go in for an alliance. We will then fight on our own," he said, as reported by NDTV.
Congress' poor show in the general elections across the country seems to have promted NCP to ask for half the seats because of concern of a repeat performance. "It is for the Congress to decide what they want to do. We are clear that the Congress is weak just now and if they contest 174 seats, then it will be to the BJP-Shiv Sena's advantage. Do they want that?," NCP spokesperson NAwab Malik told NDTV.
NCP president Sharad Pawar has called for a meeting of party leaders on Saturday to plan the way forward if the Congress and NCP do break up, TOI reported.
A similar seat-tussle may also be brewing in the BJP-Sena alliance, with the BJP looking to revise the the 119-169 (BJP-Sena) seat-sharing pact with Sena, as was followed in the 2009 state elections. BJP is also set to seek a 50:50 seat sharing arrangement with its ally, Times of India reported.
The BJP-Sena duo had last formed the state government about two decades ago in 1995, but given the encouraging Lok Sabha election results, they could very well come to power, and BJP wants to ensure it has equal number of seats.
BJP sources told TOI that while the party does not want to break away from its ally it is bent on getting a 50:50 seat-sharing.