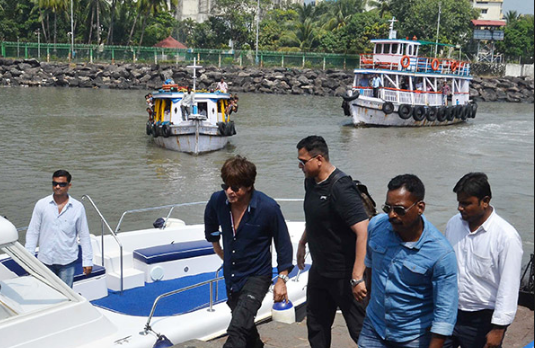 Maharashtra MLC Jayant Patil recently lost his cool and that too at Shah Rukh Khan!
As per a report, Shah Rukh was on his way back to Mumbai on a yacht from Alibaug. At the same time, MLC Patil also reached the same spot, who had to board his yacht to his home in Raigad, Colaba.
Watch the video:
The report further says, that due to the presence of the heavy crowd, Mr. Patil had to make a lot of efforts to reach his yacht and some of the actor's fans allegedly did not give the way to the minister to reach his yacht that further triggered his anger.
Jayant Patil shouted at the actor for not coming out of his yacht at the Alibaug jetty.
The MLC is seen yelling at the actor, "You may be a superstar, but you don't own Alibaug."
As soon as he left the shore, Shah Rukh Khan came out to greet the fans.
Shah Rukh Khan was in Alibaug to celebrate his 52nd birthday on November 2 along with wife Gauri Khan and friends Karan Johar, Alia Bhatt, Deepika Padukone, Sidharth Malhotra and others.
Shah Rukh Khan made headlines today as Manoj Kumar made a statement on a decade old case. Talking to Mumbai Mirror, the veteran actor said: "I have seen the snapshot. He has done a good job of imitating me. I laughed a lot when I saw the picture. Ranveer is on the right track. What Shah Rukh did was hitting below the belt, what Ranveer did was in good taste. Ranveer is a fine artiste. My good wishes are with him. I have seen his film, Band Baaja Baaraat."