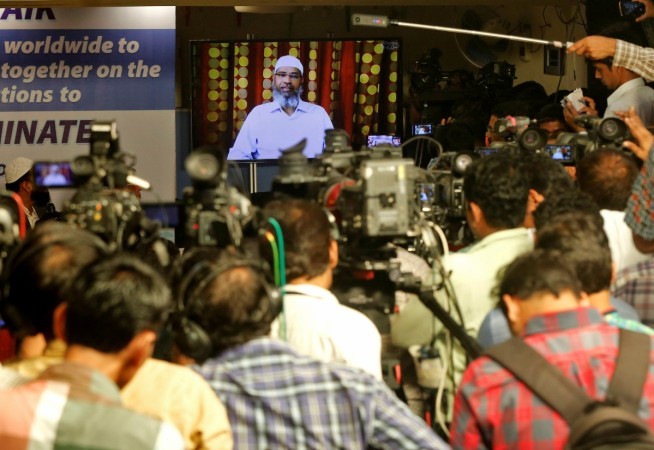 Maharashtra Chief Minister Devendra Fadnavis today said that the Mumbai police had submitted a report on the controversial preacher Zakir Naik to the Maharashtra government. The government, after evaluating the report, will share it with the Ministry of Home Affairs.
The submission of the report comes after the Maharashtra State intelligence had given a clean chit to the preacher a month ago.
The special branch of the Mumbai police is now said to be analyzing Naik's sermons and speeches to find out if there was content that was provocative or inflammatory in a manner that could potentially create a divide between communities.
"We have submitted a report on Zakir Naik to the government," Deven Bharti, Joint commissioner of police, law and order, told the Hindustan Times.
The controversial preacher has been the subject of a police probe over allegations that two of the six terrorists who attacked Dhaka on July 1 had drawn inspiration from his sermons. Naik, who has been out of the country for months, has denied any wrongdoing and accused the Indian media of orchestrating a witch hunt against him in press conferences and interviews that he addressed via Skype from Saudi Arabia.
This development comes after Maharashtra police on Monday filed a case against four persons, one of whom is an employee of Naik's Islamic Research Foundation (IRF) and also includes two persons arrested earlier by Kerala police in connection with ISIS recruitment.
A case was registered against IRF employee Arshid Qureshi and one Rizwan Khan who were arrested in a joint operation by Mumbai and Kerala police on July 21 and July 22 respectively. The two were booked based on a complaint lodged by family members of the 21 youths from Kerala, reported missing and suspected to have joined ISIS. The two were booked under Unlawful Activities (Prevention) Act and IPC section 120-B (criminal conspiracy)
ATS sources claim that while Qureshi is an employee of IRF, Khan's role was to prepare documents and conduct weddings for recent converts. Sources added that Khan has conducted more than 100 such weddings.