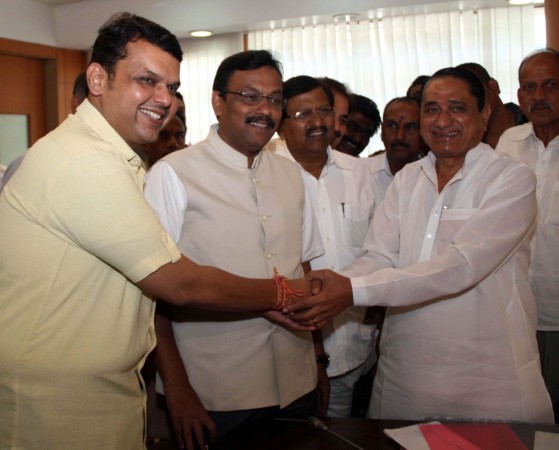 The Bharatiya Janata Party is all set for a grand swearing-in ceremony for its minority government at Mumbai's Wankhede Stadium on Friday. But the Shiv Sena has been left high and dry with yet another snub from BJP.
Sena, which had reportedly sought to be included in the new government in Maharashtra, had conveyed to BJP its willingness to accept one-third of the total ministries in the government, and wanted to be part of Friday's swearing-in.
The party also reached out to chief minister-in-waiting Devendra Fadnavis in its latest editorial in its mouthpiece, Saamna.
However, BJP has ruled out including any Shiv Sena member at the swearing-in and said it will be restricted to party-members only.
"No Shiv Sena leader will be inducted in the new Maharashtra government on Friday," BJP general secretary Rajiv Pratap Rudy was quoted as saying by Press Trust of India.
Prime Minister Narendra Modi himself will attend the function at which party's first BJP chief minister Devendra Fadnavis will be sworn-in.
BJP is playing hardball with Sena after the latter dropped its harsh stance following the election results, in which BJP won 122 seats, while Shiv Sena was left far behind at 63. It was also spoilt for choice after the Nationalist Congress Party, which split from the Congress, offered unconditional support.
Shiv Sena leaders had huddled on Wednesday to decide on the future course of action. "We met Uddhav Thackeray and discussed the future course of action with him. The wait is over now, just one more day. We will announce our decision," Sena MP Sanjay Raut had said on Wednesday, as quoted by Hindustan Times.