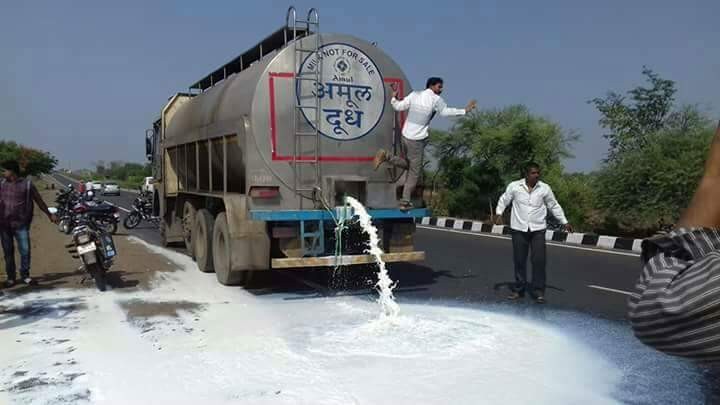 As a part of the statewide bandh by Maharashtra farmers, Mumbaikars may have to face the consequences too as the protesters threatened not to allow vegetables, fruits and milk to enter the city on Monday.
Ajit Navale, a member of the Kisan Kranti Janandolan core committee and general secretary of the Kisan Sabha held a Nashik Parishad (meeting) on Sunday, gave call for Maharshtra bandh. Reports say that this call came on Friday night after a four-hour-long meeting at the residence of Chief Minister Devendra Fadvanis failed to come up with a solution.
"The strike will go on at any cost. All outfits have unanimously decided to call for a bandh and every farmer and activist will join the bandh," he said and added that Mumbai was not included in the bandh as there were no farmers. "However, the city won't get any farm produce on Monday. No vehicle with vegetables, fruits or milk will enter the city," he added.
Reports reveal that farmers from Punamba in Ahmednagar district, the epicentre of the farmers' protest, have also supported the bandh. Further, Navale added that a new core committee, comprising farmers as leaders, will be formed within two days. This was following the unilateral announcement made by Jayaji Suryavanshi, one of the members of the Kisan Kranti Janandolan core committee, who had earlier told that the strike had been called off. On Sunday, Suryavanshi apologised for the controversial announcement. Some angry farmers pelted eggs at his house in Aurangabad after which a police team was deployed.
Meanwhile, Chief Minister Fadvanis said the state was ready to waive off loans for the small farmers and that it would be impossible to write off all loans."We will need Rs 1.36 lakh crore to waive off loans of all farmers, which was not done even during the UPA regime," he said.
Further, agitating farmers in Madhya Pradesh called off their strike on Sunday after holding talks with Chief Minister Shivraj Singh Chouhan.