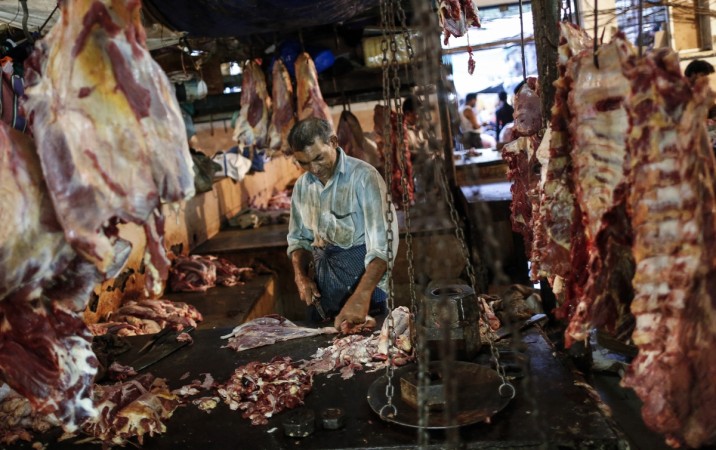 Unfazed by criticism for imposing ban on possession and consumption of beef, the Maharashtra government hinted at extending the ban to meat on Monday, only to deny it on Tuesday.
The move to ban meat was revealed by the government's advocate on Monday before the division bench of Justices VM Kanade and AR Joshi in the Bombay High Court which was hearing a petition challenging the ban on slaughter of bulls and bullocks, but not goats.
During the hearing, Justice Kanade asked the government advocate,"What about other animals like goat?"
In response to which Advocate General Sunil Manohar said: "This is just the beginning. We may consider banning slaughter of other animals too. As of now the state felt it was necessary to protect cows, bulls and bullocks."
His reply prompted Justice Kanade to say: "That may lead to migration from the state. Don't consider a ban on fishes though."
But the government denied plans to ban meat on Tuesday, when Maharashtra Chief Minister Devendra Fadnavis clarified in the State Assembly that "there are no plans to ban on slaughter of other animals."
The Bench suggested licencing that would allow import of meat of cows, bulls and bullocks slaughtered outside Maharashtra, in response to a plea to provide for such a leeway.
"Section 5 (d) of the Act which is under challenge does not prohibit slaughter of cattle outside the state. Why should a person be prevented to eat or possess beef that has been slaughtered outside? Indirectly you (government) are prohibiting slaughter of animals outside the state too," Justice Kanade said.
Aspi Chinoy, representing one of the petitioners argued that Section 5 (d) was arbitrary and against the fundamental right of a citizen and the import of meat should be permitted.
But that did not find favour with the government's counsel, who said cruelty outside the state would be no different from that within the state.
"How can the state say slaughter of cattle in Maharashtra amounts to cruelty but one can slaughter outside the state? That would also amount to cruelty. The Act incidentally prohibits import also," Manohar said.