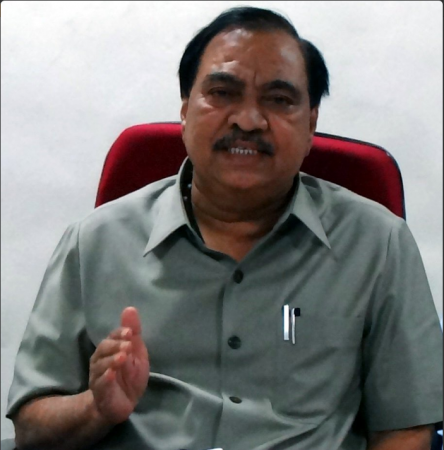 Eknath Khadse, BJP leader and Maharashtra's revenue minister, has reportedly been asked to quit by Chief Minister Devendra Fadnavis over his questionable MIDC land dealing and alleged phone calls made to him by Dawood Ibrahim.
India Today, citing senior BJP sources, reported that Fadnavis has asked the minister to quit following the two controversies, but added that a defiant Khadse has refused to resign.
India Today also reported that Fadnavis is likely to discuss the issue of Khadse's resignation with Prime Minister Narendra Modi and BJP president Amit Shah. The BJP chief has apparently sought a report from the BJP's Maharashtra unit over the charges levelled against Khadse.
The Rashtriya Swayamsevak Sangh (RSS), whose political wing is the BJP, is upset with the controversies surrounding Khadse. RSS leader Rakesh Sinha tweeted in Hindi on Wednesday that Eknath Khadse should step down since there can't be two standards on honesty and transparency (in politics).
एकनाथ खड़से को इस्तीफा दे देना चाहिए। राजनीती में पारदर्शिता और ईमानदारी पर दोहरा मापदंड नहीं हो सकता है।

— Dr Rakesh Sinha (@RakeshSinha01) June 1, 2016
The controversy over the land deal pertains to a transaction entered into in April between Khadse's wife Mandakini and son-in-law Girish Chaudhari, and one Abbas Ukani to buy a three-acre land in Bhosari, near Pune, for about Rs. 3.75 crore.
The land deal is being cited by the Congress as the minister's misuse of power and violation of "oath of secrecy."
The land apparently belongs to the state-run agency called the Maharashtra Industrial Development Corporation (MIDC) after it acquired from Ukani in 1971. The MIDC does not have powers to sell land to anybody, only lease it to companies, according to a NDTV report.
The Indian Express reported that the land was undervalued by a whopping amount. While the minister's kin acquired it at a rate of Rs. 3,088.81 per sq metre based on the sale deed executed on April 27, the government's annual statement of lands, the determinant for true market value, fixes the property rate at Rs. 25,630 per sq metre, the daily reported.
The alleged irregularities in the land deal were revealed by Hemant Gawande, a builder in Pune, added NDTV. "The laws have been violated because the MIDC (state-run company) doesn't even know this land was purchased by a top politician and his family," he told the news channel.