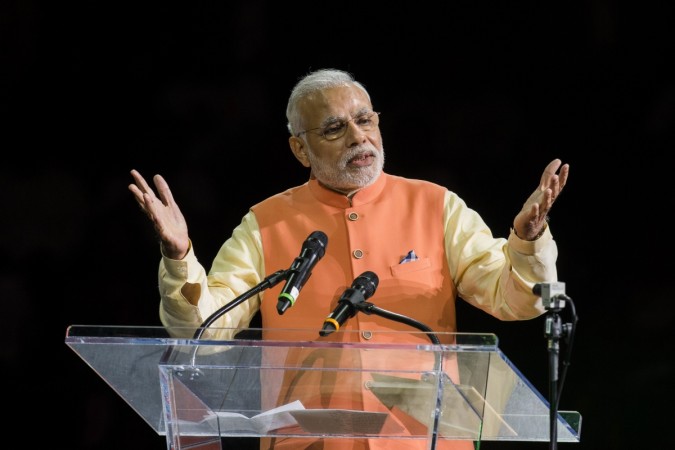 The BJP has fastened its belt ahead of Maharashtra assembly polls and Indian Prime Minister Narendra Modi is set to roll out party's campaign in key districts including Dhule, Dondaicha, Erandol, Jalgaon and Nagpur, where he will hold public meetings on Tuesday.
14:54pm Moving ahead with his speech in Buldhana, Modi praised the citizen of India for giving majority votes to BJP, and for showing faith in them, which has brought the success and international acknowledgment for the nation, he said.
14:51pm Modi asked the people to vote for BJP, not because of Narendra Modi, but because the party is dedicated to state's development. Modi gave assurance that BJP will give Buldhana what the ruling party failed to and asked them to pull down from the governance if they prove to be a disappointment after five years.
14:45pm Attacking Congress and Prithviraj Chavan, Modi asked the people of Buldhana to get rid of the corruption and sins committed by the ruling party that has eaten the roots of development by spreading corruption.
11:37am: Once again, Modi referred to Congress as a corrupt party, which looted water, massively affected farmers and filled their pockets. He said Congress is responsible for death of over 3000 farmers this year.
11:34am: Asking the people to press the "lotus button" on 15 October, Modi asked to support BJP and vote Congress out of the state. He said it will be a day to bring changes, and get rid of unemployment, corruption and troubles.
11:29am: Speaking against his rival, Modi said there are parties and political leaders who are trying to divide the state into parts and have been lying to the people of Maharashtra for long.
"Maharashtra is incomplete without Mumbai, and India is incomplete without either of the two," Modi said.
11:26am: While addressing people of Dhule, Modi said unlike Congress and its leaders, he is a "sevak," not a politician. Targeting the political rivals, he said they have been speaking about development, but has never produced what they promised. They have neither given the report of what they did nor provided rail lines to the state, as promised, Modi said.
The Bharatiya Janata Party is going solo in 2014 assembly elections and contesting for 257 seats against its political rival Shiv Sena that was once its ally before both parties decided to part their ways on 25 September.