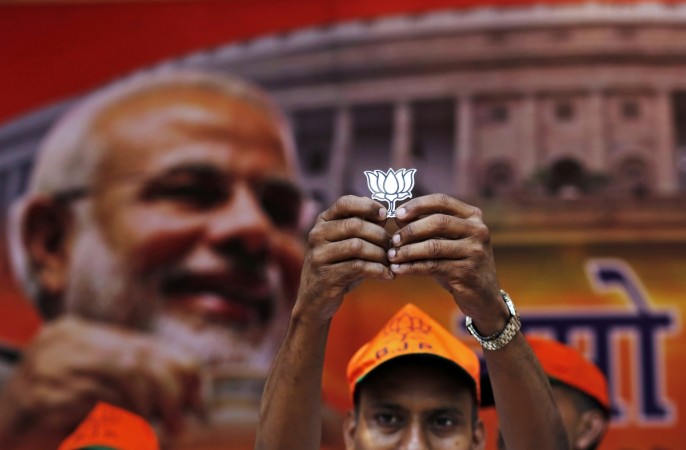 Ahead of the assembly elections, Maharashtra bookies, who rightly predicted a single-party majority for BJP in the Lok Sabha elections in May, believe the 15 October poll results in the state will favour the Saffron party once again.
If the prediction is anything to go by, Prime Minister Narendra Modi's convincing speeches at campaign rallies in several districts of Maharashtra and his magnificent fan-following that has only increased over time, will reward him with a massive victory of 110-115 seats out of total 228 assembly seats, The Economic Times reported.
This will be a major blow to the Congress that has ruled the land of one of the greatest warriors, Chatrapati Shivaji, for long. It won 10 out of 12 assembly elections that took place since 1960. This time, however, Congress may have to bow out with only 40 to 50 seats, predictions claim.
While others—NCP and Shiv Sena that recently severed its 25-year long alliance with BJP—too will not get more than 40-45 seats in Maharashtra assembly. However, the bookies believe Shiv Sena may go back with BJP post elections, which the latter is likely to deny if it wins majority seats, i.e. over 145.
The bookies, however, do not feel BJP will bag more than 145 seats this assembly elections as the campaigning began late.
But since Modi has now taken task of campaigning in his own hands and has been conducting rallies across the state, there are chances that BJP may get lucky after the debacle in Bihar, Rajasthan and Uttar Pradesh bypolls last month.
With just one day at campaign rallies in Maharashtra and 15 more rallies to come, it is not clear now whether PM will be successful in retaining the slowly vanishing "Modi wave". That we will know on 19 October, when the votes are counted.