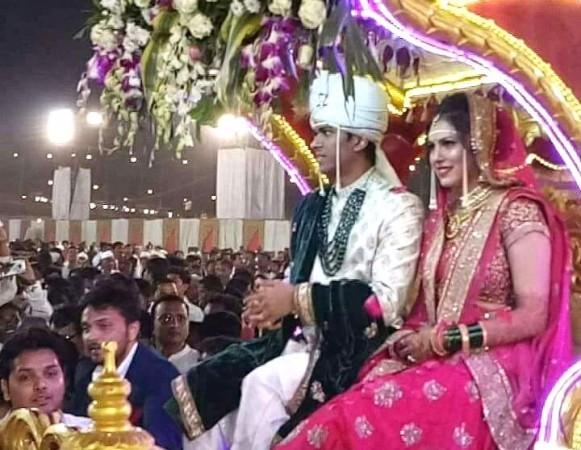 Maharashtra BJP chief Raosaheb Danve was a happy man when around 30,000 people attended the lavish ceremony of the wedding of his son Santosh — himself an MLA from Bhokardan in the Marathwada region of the state — to Marathi musician Rajesh Sarkate's daughter, Renu, in Aurangabad on Thursday, March 2.
Also read: Income Tax Department raids mining firm office of Janardhana Reddy, days after his daughter's lavish wedding
However, the wedding is fast turning into a political scoring-point for the Opposition — especially the Congress — over how much money was spent, and why such a lavish spread was arranged for when the money could have really helped farmers from the drought-hit Marathwada region. Here are five points on which the Congress will look to corner the Maharashtra BJP chief and Chief Minister Devendra Fadnavis:
1. Legislation on wedding expenditure: It is the BJP at the Centre that has introduced a bill to put a cap on expenditure in Indian weddings. Against that backdrop, the heavy expenditure in Santosh's wedding does seem ironic. Political rivals may choose to needle the BJP and Fadnavis with allegations of double standards.
2. State machinery being used? There have been allegations that state machinery was used as part of the wedding. Shetkari Annadata Organisation member Jayaji Suryavanshi has already levelled these charges, and also said the police was used for security.
3. Water wastage: Suryavanshi has also said several tankers full of water were used in the wedding. Given that Marathwada — the region from where Santosh Danve Patil is MLA — is drought-affected, such water usage may seem extravagant. It may be noted that the Maharashtra government has only recently released around Rs 900 crore as crop insurance to farmers whose produce was affected by, among other things, water shortage.
4. Inconvenience to public: It seems at least one major thoroughfare in Aurangabad was blocked for the wedding, which was attended by almost the entire Maharashtra Cabinet, including Fadnavis himself. Social activist Anjali Damania has already raised this point.
Beed Aurangabad Highway was kept shut for 4 hours for the grand marriage of his Highness Raosaheb Danve's son? Who do they think they are? pic.twitter.com/6FIOEhjNRw

— Mrs Anjali Damania (@anjali_damania) March 2, 2017
5. Black money used? What initially began as whispers in corners finally came out in the open when people took to Twitter to ask how Raosaheb Danve had paid for the wedding. Some jokingly asked if the entire transaction had been cashless, while others insinuated outright that black money was involved. And Samania raised this issue as well:
[Bonus] Disparity in food: Only a special kind of person will bring this up as a political point. While the feast for the VVIPs was a multicuisine affair, many "commoners" were served a simpler fare, consisting of roti, puri, lentils and a couple of other dishes.