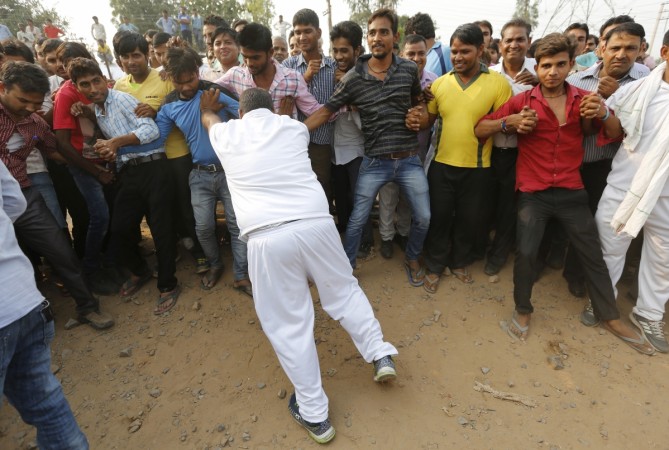 As many as 17 people, including a minor, were arrested for beating up two policemen, who tried to stop the group from hoisting a saffron flag Friday in Maharashtra's Latur district. The group has now been booked for attempt to murder.
Members of the Shivaji Jayanti Mandal, a fringe group, were stopped by two policemen K Awaskar and Yunus Sheikh just after midnight on Feb. 19 from hoisting a saffron flag in Ambedkar Chowk in Pangaon as the area is considered communally sensitive. The group, which was celebrating Shivaji Jayanti, agreed to leave but returned in the morning, The Indian Express reports.
Awaskar, head constable, was assaulted by the mob when he visited the spot after hearing about the regrouping in the same area. Another policeman, assistant sub-inspector Sheikh, who tried to intervene was badly injured and was later hospitalised, reports The Indian Express. He was also made to walk around with a saffron flag. However, the Press Trust of India reports that the group, armed with more people, attacked the police station where the two cops were stationed.
"They (youths) had incited the mob by telling them that the two policemen had crushed their flags under their feet," an official told PTI.
Incharge of the Renapur police station LV Rakh was transferred for failing to provide back up and failing to stop the attack.
"Between 8.30 a.m and 8.45 a.m on Feb. 19, Sheikh made two calls — one to the control room and the other to Rakh on his mobile number, requesting for reinforcements. But Rakh failed to send the reinforcement in time and hence has been transferred," a senior official told the The Indian Express.
Among the arrested is also a 17-year-old, who has been sent to a juvenile home, while the remaining 16 have been booked under sections 307 (attempt to murder) and 353 (use of criminal force to deter a public servant from discharging his duties) and will be in police custody till Wednesday.