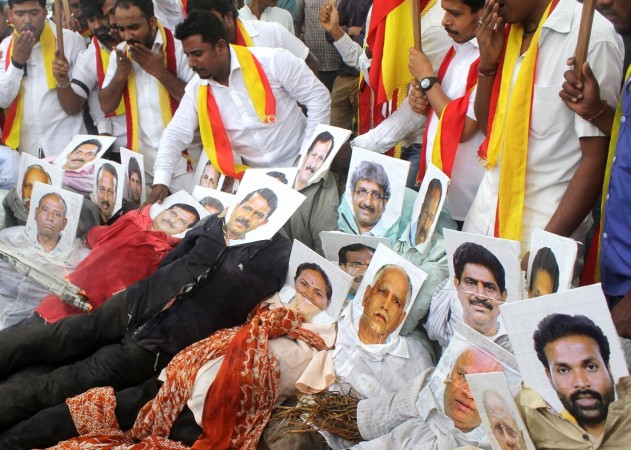 In the next two weeks, Bengaluru will be hit by two strikes called by Pro-Kannada organisations and farmers over Mahadayi River dispute.
The January 25 bandh, which has been called by the Confederation of Pro-Kannada Organisations president Vatal Nagaraj, will be observed throughout Karnataka and protesters will be focusing on urging the Centre to resolve the Mahadayi water dispute as quickly as possible.
The second strike will be witnessed only in Bengaluru when Prime Minister Narendra Modi will be in the city to attend the BJP Parivarthana rally on February 4.
On Sunday, when Nagaraj was attending a press meet, he had to face some vexation on the part of the farmers and a few other agitators for not having consulted them before calling a strike on January 25.
"Did you take our consent before giving a bandh call on January 25? We will not support it. Our intention of calling a bandh on January 27 was to pressure PM Modi to intervene in the Mahadayi issue, as he was to visit the state on January 28. Frequent bandhs are causing a lot of inconvenience to the public, who are now upset," Kannada activists were quoted as saying by the Times of India.
PM Modi, who was earlier scheduled to visit Bengaluru on Sunday, had postponed it to February 4 owing to pending meeting over the budget.
The agitators later came to an agreement with Nagaraj and decided to observe a strike on the two days.
"The all-Karnataka bandh will be observed on January 25, to pressure all political parties to solve the Mahadayi issue at the earliest. On February 4, a bandh will be observed only in Bengaluru to pressure PM Modi to intervene in the dispute," Nagaraj added.
The farmers and agitators plan to gherao PM Modi and demand an immediate solution to the Mahadayi water dispute without further delay.